Car accidents are traumatic experiences and the injuries suffered can significantly impact your life. You may be facing overwhelming medical bills or finding yourself unable to do the things you used to do. However, you may be able to recover compensation if the car accident was not your fault.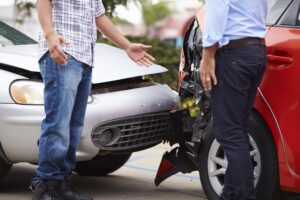 If you are unfortunately the victim of a car crash, you should consult with an attorney. When choosing an attorney, look for someone who has a great deal of experience in auto accident cases. Before the first meeting with your attorney, you should come prepared with questions – your attorney may address most of your concerns before you ask anything, but it is important to come prepared.
What do I do after my auto accident? 
Well, hopefully the first thing you did was contact your local law enforcement and seek medical attention. If you have not seen a doctor yet, that should be the first thing you do. You attorney needs to understand how significant your injuries are, and it's imperative that you put your health first.
How will you represent me? 
This is a very important question for you, because it allows for you to better understand your attorney and how he or she works. It also opens the door for your attorney to explain a little of what they will be doing so you know exactly how they will be representing you. Make sure you know the details about the plans and steps your attorney will take. You want to be able to develop a partnership with your attorney and other professionals involved in your case.
What should I do to protect my case? 
You want to ensure that you understand what you should be doing and what you shouldn't be doing in order to protect your case. Part of that will be ensuring that you meet all deadlines, such as when to file a lawsuit. You may need to do other things such as filing a notice with your insurance company. Of course, your attorney and legal team are there to assist you with all of this.
What information do I need to provide my attorney about my accident?
This is a great question to ask so that you know what kinds of documentation, photographs, evidence, witnesses, and other items you need to get to your attorney to assist in your case. Once the attorney understands your situation, they will be able to tell you exactly what may be needed.
How long do I have to file my lawsuit? 
Every state has maximum time limitations on when a lawsuit must be filed. These time restrictions are known as statutes of limitations. If a claim is not filed against the defendant before the statute of limitation expires, the injured persons are forever prevented from bringing a claim against the entities and persons who may be liable for their injuries. Make sure you know when this date is.
How long will it take to settle my claim?  
It can take anywhere from a few weeks to a year or more to settle your personal injury automobile accident claim. Ensuring full and fair compensation may take time. The insurance company will want to analyze records and photos, interview witnesses, and obtain all information related to your injuries and health issues. Your attorney should be able to give you a timeline once all the facts are known.
What are my potential damages? 
Every case is different, and no attorney can give you the exact worth of your case. However, the attorney should at some point be able to give you an idea of potential damages based upon your injuries and situation.
Can you help me recover compensation for future medical expenses? 
Some injuries continue to cause problems for months, and sadly maybe even years. If your injuries result in recurring issues, you may need further compensation then what is offered up front for the injuries sustained. Things you might want to consider are whether your injury requires frequent visits to a chiropractor, or whether your injury could get worse later and require surgery. Ask your lawyer about whether there is a possibility of receiving compensation for future medical expenses in your situation.
What is the difference between settling and suing? And should I consider settling? 
Most cases settle out of court. In the case of your auto accident claim, you may be able to settle with the insurance company without even filing a lawsuit. However, even if your claim leads to you suing the insurance company, you can still choose to settle the case prior to going to court. You can also opt against settling and take your case to trial where a judge or a jury will decide the matter. You should discuss any settlement offers with your attorney, and they can cover the pros and cons of the offer before you make any decisions. However, if you choose to settle you will no longer be able to sue for your injuries.
What should I do if the insurance company makes an offer?  
If someone asks you to fill out paperwork, give a recorded statement, or entertain a settlement offer, do not do so without consulting your attorney. Remember, the other party's insurance company does not have your best interests in mind.
How often will you communicate with me about my case? 
Ask your attorney whether he or she will keep you updated or whether a paralegal will. Check to see if this will be weekly, monthly, etc. Depending on the case you may not need to hear from the attorney all that often, but it's good to get an understanding of how updates will work, and what your attorney and legal team are doing when you aren't hearing from them. At certain times in the cases you may more frequently communicate with your legal team. This is also a good time to establish the best form of communication for you, such as email, phone calls or in-person updates.
How are attorney fees and costs of my case paid? 
The attorney you have hired for your personal injury case will most likely be working on a contingency fee basis. This means your attorney works on your case without any upfront fees and only takes a portion of what is collected at the end of the case. If you receive nothing, then the attorney gets nothing. Contingency fees are usually 25-30 percent of the total damages received. You should have discussed this from the onset of the case, but make sure that you are clear on the expectations of payment. Remember, most attorneys either bill by the hour or take a contingency fee. Some will work for a flat rate.
Does it cost money to talk to an attorney?
At McDivitt, you do not pay us for an initial consultation. Reach out today if you have any questions, or if you or a loved one has been in an auto accident.
Knowing the right questions to ask your lawyer will help you become a better-informed consumer. Being in a car accident is traumatic enough. You don't need the additional stress of worrying about how to recover your losses. For further information and a free initial consultation with one of our experienced Colorado auto accident lawyers, call toll free 877-846-4878 or click here to request a case evaluation. The first consultation is free, and you won't owe us anything until we collect money for you.
If you found this blog informative, you may also be interested in the following: