Serving Denver, Aurora, Pueblo & Colorado Springs for over 40 years
If you or a loved one have been injured as a pedestrian, the Colorado pedestrian accident lawyers at McDivitt Law Firm can help. With over 40 years of experience, McDivitt Law Firm has helped families across Colorado hold negligent motorists and cyclists responsible for not paying attention while driving or yielding to pedestrians. Pedestrians are the most at-risk for 
personal injuries
 and all it takes is a moment of distraction to completely change a life. Our team of pededstrian accident attorneys at McDivitt Law Firm will fight for you and your family to ensure that you receive compensation for injuries and medical bills caused by a driver or cyclist who didn't yield the right of way.
Do I need to hire a pedestrian accident attorney after getting hit by a car or bicycle?
It is important to contact McDivitt Law Firm after being involved in a pedestrian accident in Colorado. Pedestrians have the right of way and this fact should be observed by all motorists and cyclists. Sadly, this is not always the case. However, the right to adequate compensation for injuries and pain and suffering is always within reach when you have the McDivitt Law Firm on your side. Insurance companies do not always have your best interests at heart and we want to make sure that you get the compensation you deserve.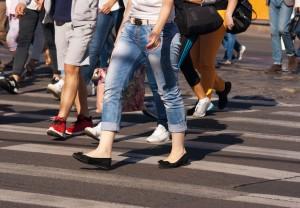 The driver who hit you will likely have insurance that we can pursue. Our attorneys will pursue every avenue needed to get compensation for your injuries.
McDivitt attorneys will search every possible source for compensation on your personal injury pedestrian case. There are protections that you may have on your insurance coverage in the event of an accident with an uninsured or underinsured driver. Click 
here
 for more information on what happens if you are hit by an underinsured driver.
As in any personal injury case a police report is an important piece of evidence. A police report will provide factual information from the incident that will help your attorney paint a picture of what happened at the time of the accident. If you or someone else can take pictures of the scene, this can also be an effective piece of evidence for your case.
As your case progresses and you continue to receive treatment for your injuries, we will keep track of all your medical bills. This evidence will help us present the extent in which your injuries affected your life.
Why choose McDivitt Law Firm
For over 40 years, the pedestrian accident lawyers at McDivitt Law Firm have represented pedestrian accident victims and their families as they heal from traumatic experiences. We are able to quickly build a solid case for our clients that is designed to recover maximum compensation. After an accident, we work quickly to get you the money needed to cover medical expenses and recovery. We are not afraid of large insurance companies and will fight to hold drivers and cyclists accountable for their lack of attention on the road or sidewalks.
A McDivitt client and her friend were walking eastbound on Spruce Street (Denver) in a crosswalk with the flashing 'don't walk' signal. Both were struck by a 2009 Jeep Wrangler. The driver was turning left onto Spruce Street when they struck our client and her friend simultaneously.
This collision lifted both of them onto the hood of the car and projected them several feet onto the pavement. The at-fault driver claimed he did not see our client or her friend prior to striking them. even though they were clearly in front of him and in his line of vision. Both the driver's girlfriend and roommate were passengers in the car and they were in fact able to see the pedestrians as they began screaming for him to stop. However, the defendant tried to argue that our client was comparatively negligent for crossing on the flashing yellow. After the depositions of our client and the driver the defense dropped that argument and admitted liability.
Our client suffered a completely torn ACL and MCL which required a total reconstruction. Our team was able to recover almost five times the amount of her medical bills from the driver's insurance company.
Contacting an attorney after you have experienced any type of vehicular collision will be beneficial to your case and will dictate how the insurance company will react. Seek legal assistance as quickly as possible to ensure that the insurance company does not try to take advantage of you. Our legal team will advocate for you and fight to get what you deserve so get you can get back to your life.