Injuries related to your job could be occupational (happen over time) or specific (ex; falling at work). If you are injured from a job-related illness or accident, your employer's workers' compensation insurance should be responsible to cover all reasonable and necessary medical treatment. The treatment is meant to cure your injury and return you back to work. This treatment would include medical appointments, surgeries, therapies, and medications required to decrease your pain and increase your range of motion and ability to function.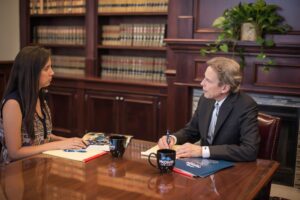 Please be aware there are specific time frames for you to seek and receive workers' compensation benefits. Therefore, any injury should be reported as quickly as possible, even if you think your injury is minimal. In addition, there are many other legal issues the insurance carrier can use to deny your right to seek medical care. As a result, this may require the filing of legal proceedings. Please seek legal help if you have any questions regarding your rights to seek medical care.
What Workers' Compensation Doctor Should I See?
Unfortunately, your employer's workers' compensation carrier will have the right to send you to their doctors for medical care. But there are times when a denial of care or other issues will allow you to choose a doctor for additional treatment. If there is a true emergency, however, do not worry about going to the "right" doctor. Head straight to the emergency room as quickly as possible.
How to Deal with Workers' Compensation Doctors?
When you are injured at work, it's important to know how to handle your injury and how to effectively deal with workers' compensation doctors and laws. Immediately after you are injured at work, the steps you take could have a significant impact on your workers' compensation claim.
Report your injury immediately: Time to provide notice of a specific and/ or occupational claim varies.

Seek medical treatment quickly

Inform your doctor of all details surrounding your work injury; including past conditions.

Do not exaggerate or embellish symptoms

Follow all doctor's orders precisely including trying to work, full or light duty.

Take all medications on time and keep receipts of over-the-counter meds

Be honest with your doctor about your ability to return to work

Do not perform acts beyond doctor's restrictions

Keep accurate documentation of all treatment and therapy visits
Although it's always in your best interest to listen to your doctor and follow all of their recommendations and restrictions, you may have a right to seek a second opinion. If your doctor is trying to send you back to work too soon, or you have serious question about your ability to return to work, even in a modified capacity, be sure you voice these concerns.
Can I Change Workers' Compensation Doctors?
Many injured employees worry that the workers' compensation doctor their employer has chosen may not be the best doctor to treat their injuries. If you believe that you are not getting adequate or thorough medical care, state law does allow you to request a second opinion. This is known as a Division Independent Medical Evaluator and this doctor must be chosen by negotiating from a list of doctors with the insurance company. This process can be difficult and often requires the presence of a skilled and knowledgeable workers' compensation attorney. Disputes often arise during this negotiation process and it's best to ensure that your rights are protected throughout.
Workers' Compensation Doctor and Maximum Medical Improvement
If you are being treated for a workplace injury, there may come a time when your workers' compensation doctor discharges you after determining that you are at maximum medical improvement. This means that the doctor has determined that you have reached the maximum therapeutic benefit from medical care and will no longer improve. While this is certainly a credible determination, it can be a point of contention that will require another medical opinion.
Colorado law requires that any worker that is being actively treated for more than six months be rated for permanent impairment. This rating converts to money benefits that are rightfully paid to the worker under Colorado law. Unscrupulous workers' compensation doctors may suddenly determine that a patient is at maximum medical improvement, just prior to this six-month mark, to reduce the payout to the employee. After all, releasing an injured worker prior to the six-month mark can be a significant savings to the employer and insurance company.
If your workers' compensation doctor releases you before the six-month mark and you are still injured and requiring treatment, then you have a very short window to take action. Your attorney can ensure that your rights are protected and that your case is not closed unjustly.
Contact Our Denver Workers' Compensation Lawyers
Contact the McDivitt Law Firm workers' compensation attorneys in Denver 303-426-4878, Colorado Springs 719-471-3700, or Pueblo 719-542-3700 as soon as possible. We offer a free consultation that will help you understand your rights and options without obligating you to work with us any further.