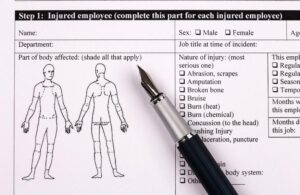 Colorado has its own laws when it comes to workers' compensation claims. These laws can often be confusing, especially to someone who has been hurt on the job and is now suffering. While workers' compensation laws are here to protect employees' rights to compensation for injuries received on the job, the law sometimes feels to the injured to favor his or her employer.
By law, if you are hurt on the job you must report in writing to your employer within four days of the injury that you have been hurt. However, it may take up to 30 or more days for your injury to be designated as an on-the-job injury that will qualify for workers' comp. How is that so?
Colorado Workers' Compensation Laws
While you are required to report the injury within 4 days, your employer has up to 10 days to report your injury to their insurer. If you miss three days of work due to a work-related injury or illness, the 4th day you miss will trigger the reporting requirement for the employer. From that day the employer has 10 days to report the injury to its insurer.
Once your employer has reported the injury, your workers' compensation claim has begun. After your employer makes the report, their insurance company has 20 days from the filing of that report to notify you on whether they accept the claim and benefits will be paid, or whether they deny the claim.
Therefore, with the amount of time your employer has to report, and the insurance company has to make a decision, it could take up to 30 -34 days for your workers' compensation to "start" even though your claim began the moment your employer reported the injury.
Please note that you can still report your injury after those first four days, and your employer is still responsible for filing a report with the Division of Workers' Compensation when it becomes aware of your injury. However, you will receive penalties, in the form of lost wages, for reporting late. Check out our Colorado Workers' Comp FAQs for more information.
What Happens After?
For important deadlines in the workers' compensation claims process check out the Colorado Department of Labor's Timelines. There are important dates after admission or denial of liability including the Notice of Contest and the Final Admission of Liability.
The experienced Workers' Compensation Team at McDivitt Law Firm is here to help you with this process to ensure that you receive the benefits you are entitled to. Contact us today for a free consultation.