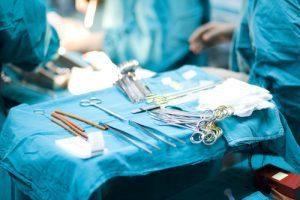 Physiomesh, a flexible composite mesh produced by Ethicon, Inc., is used to repair hernias in both the stomach and groin areas. Such hernias occur when a small portion of the intestine bulges through an opening in the muscles of the abdominal wall, and are typically caused by heavy exertion, age, or genetic factors. Hernias can occur at any time. Fixing a hernia generally requires a minimally invasive surgery to repair the broken abdominal wall; mesh products like Physiomesh are placed beneath the abdominal wall in order to prevent the hernia from recurring after the surgery is completed.
A lawsuit filed on September 22, 2016 alleges that Physiomesh is defective and that Johnson & Johnson and its Ethicon associate are therefore legally responsible for harm caused by its manufacture, marketing, and sale. The complaint was filed in Federal court in Florida, and it alleges that the plaintiff was implanted with Physiomesh in May 2014. However, her condition became steadily worse with constant abdominal pain and an inability to move her bowels. In July 2015, she had to undergo exploratory surgery to fix the complications caused by Physiomesh; during the second surgery, the surgeon spent over two hours removing the defective mesh but was unable to completely remove it. She further says that she would never have agreed to being implanted with Physiomesh had she known about the potential complications.
In May 2016, Ethicon started a voluntary recall of the mesh after reviewing information received from two independent hernia registries. Within those registries, the number of hernias requiring additional surgeries was higher among patients who received Physiomesh than those that did not. Ethicon believes that the higher rate is a result of a number of different factors, of which many are beyond their control. However, Ethicon has not been able to specifically identify those factors. As a result, Ethicon recalled Physiomesh from the global market. (Ethicon "Urgent: Field Safety Notice" May 25, 2016).
If you have suffered complications due to the implantation of Physiomesh after a hernia, contact the experienced medical device lawyers of McDivitt Law Firm for a free consultation today by calling us at (877) 846-4878 for a free and confidential evaluation.