McDivitt Law Firm's Denver office is conveniently located in the heart of downtown, just two blocks east of Union Station.
1401 17th St., Suite 500
Denver, CO 80202
To help you easily find the office for your appointment, please review the following directions, and call us at any time if you have questions or need help navigating the one-way streets of downtown Denver.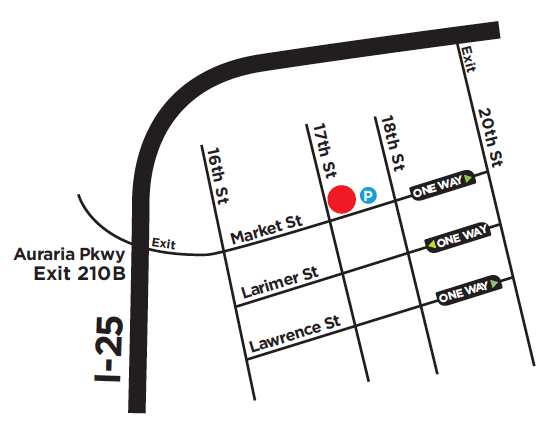 Our building is accessible from 17th Street, 18th Street and Market Street. There are two entrances to ourparking garage: one is on the west-side of Market Street and the other is on the south-side of 18th Street.
From NORTH-BOUND I-25:
You can get to our building easily from north-bound I-25 by taking the Auraria Parkway exit (210B). Onceyou've exited, stay straight on Auraria Parkway – it becomes Market Street after you cross Speer Blvd. Stay in the left-hand lane, because once you cross 17th Street, you will be able to enter our parking garage from
Market Street, half-way down the block on the left hand side, before you reach 18th Street.
From SOUTH-BOUND I-25
If you're coming from south-bound I-25, take the 20th Street exit, then head east on 20th Street until you reach Larimer Street. Take a right onto Larimer to head south for two blocks. Then, turn right onto 18th Street. The entrance to our parking garage will be on your left-hand side, just after you pass Market Street.
Please note, we validate for your parking at our Denver office, no matter how long your appointment takes. Please park in our garage.
The following bus routes stop in Union Station at 1700 Wewatta St.:
0, 6, 20, 31X, 32, 40X, 55X, 72X, 80X, 86X, 104X, 120X, AF, BF, BMX, BV, BX, FMR, L, LNX, LSX, LX, MALL, S
The following Light Rail routes stop in Union Station at 1700 Wewatta St.:
C, E, W
Once you arrive at Union Station, our office is located just two blocks east of the station – straight down 17th Street, on the northwest corner of Market & 17th St.
More details about the Denver office.