McDivitt Law Firm has two convenient locations in Downtown and North Colorado Springs.
19 E. Cimarron
Colorado Springs, CO 80903
To help you easily find the office for your appointment, please review the following directions, and call us at any time if you have questions or need help with navigation.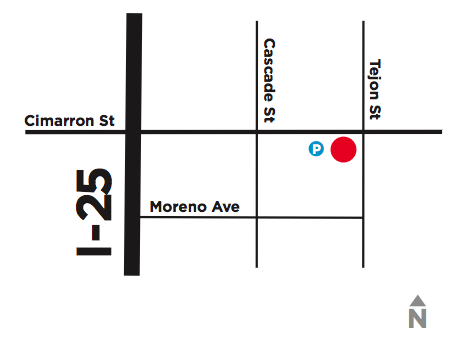 Whether traveling north or south-bound on I-25, you will take the Cimarron exit and head east. As soon as you cross Cascade, our parking lot is ó a block up and on the right, next to our office.
Please note, there are no fees or permits necessary for our parking areas.
Closest routes to this location are Route 1 (Hillside-Hancock Plaza), 4 (8th Street), 10 (Hwy. 115-PPCC), 11 (World Arena-PPCC), 15 (CJC-PPCC), and 16 (Brookside St.)
More information about the Colorado Springs locations.