"Good men are bound by conscience and liberated by accountability." – Wes Fessler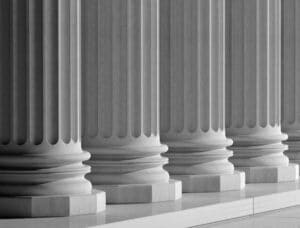 Here at McDivitt Law Firm, it is our mission to pursue accountability on behalf of others. We are here to ensure that those who have not treated you right are held accountable for their actions. But holding others accountable doesn't mean we shouldn't also be accountable to others. So what does that mean?
The Four Pillars of Accountability
Others have discussed the Four Pillars of Accountability, which include:
Responsibility – This is the foundation for accountability. We must be responsible for every action and promise that we make. Without which, we will have failed ourselves and others.
Answerability – This is the ability to be able to answer for all decisions and actions that we choose to make. Being able to admit when you have made a mistake is crucial.
Trustworthiness – We must earn trust. Without it, we are unable to form a bond of trust with others and hold ourselves accountable. If we are untrustworthy we are clearly not accountable for what we are doing.
Liability – This is not in reference to legal liability. It is, however, about our ability to hold ourselves liable in how we maintain our ethics, morals, and values.   We must know that if we do not uphold our values that there are consequences. In understanding that there are consequences we are able to strive for the highest character.
Where Accountability Starts
Accountability starts with each one of us. First, you must be accountable to yourself, without that it is impossible to be accountable for others. You should be accountable to your family, coworkers, friends, business, and community. In doing so, you are providing society with a better place and upholding the social mores that make our society functional. I often like to look in the mirror and ask myself: "Will I be accountable to myself today?" If I can't do that, how am I able to provide accountability to others? You must have dignity and respect for yourself so that you may extend those virtues to others. 
What We Offer
We are in the business of accountability. The Team at McDivitt Law Firm is here to hold those who have harmed you accountable for their actions. Because we strive to act responsibly and be trustworthy in all we do, we ensure that others are held to those same standards. When they fail to do so, we are here to help you. By helping you hold others accountable we are able to provide meaningful access to the civil justice system. If you have been injured by the careless actions of others, contact us today so we may help you get the money you deserve to compensate you for the losses their actions caused you.