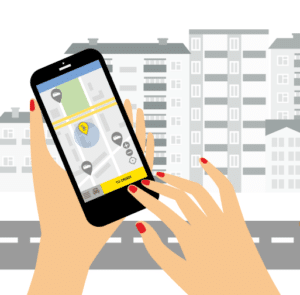 Ever found yourself gripping the seat while riding in an Uber around downtown Denver? You may wonder just how often Uber drivers are involved in auto accidents. The data about Uber accidents is limited but as the company grows, we can likely expect the number of rideshare accidents to rise. This is important to keep an eye on, especially in areas around Denver like Littleton, Englewood, and Lone Tree where there are a high number of rideshare drivers.
Since Uber launched, it has grown rapidly to a company valued at more than $18.2 billion. Uber has cars in 204 cities, in 45 countries, claiming to cover more than half of the U.S. population with its drivers. With more and more Uber drivers on the roads, there are bound to be accidents—at the very least, fender benders. Other rideshare companies such as Lyft have also emerged during this time.
But, who is responsible after an Uber accident? The answer to that question depends on many different issues. Liability during an auto accident can be affected by several different things, and insurance companies are very particular regarding these car accident insurance claims.
Uber Vehicles—Unlike Taxis—Are Not Considered Commercial Vehicles
If you are involved in an Uber accident, there isn't a checkbox on the police report to indicate your accident occurred in a rideshare. While there is a checkbox for commercial vehicles, rideshares are not classified as a commercial vehicle. The police officer can make a note that the vehicle is an Uber, however, the officer is not required to do so, and if a note isn't made, then there will be no record of an Uber accident.
Uber executives are not forthcoming about the actual numbers regarding Uber accidents, however, they do say on their website that the Uber driver is covered prior to accepting a fare by Uber's insurance policy. This coverage is $50,000 in injury liability per person. Once the driver is on their way to pick up a rider—and after the rider is picked up—that Uber liability insurance increases to $1 million.
Uber drivers are also required to carry insurance in the amount required by their particular state. Like most things, however, there are often loopholes for huge corporations, and the Uber driver's insurance may, in fact, not cover your injuries if the accident is serious. Recovering from an auto accident can be expensive, especially if you have to pay for trauma counseling, physical therapy, rehabilitation, or a costly ER visit. So, whether Uber's accident policy—and that of the driver—will actually help those injured in an Uber accident, is up for debate.
Did You Sign Away Your Rights?
Consumer advocates believe you have basically "signed your life away" once you agree to Uber's terms and conditions, however, Uber claims safety is their top priority and "foundational to the Uber experience—for both riders and drivers." An Uber ride is different from a taxi ride—when you download the Uber app and summon a car, you agree to terms and conditions by default.
Since Uber drivers are classified as independent contractors, Uber is somewhat protected from liability in the event of an auto accident. However, if it can be shown that Uber exercises a certain amount of control over its drivers—the ability to hire and fire or to decide where their services are performed—then the drivers are more like employees.
This means that insurance companies will react differently if you're in an Uber accident. The same protections afforded to you by riding in a regular taxi do not apply. If you are injured in an auto accident that involves an uber driver, it is important to have an experienced Colorado lawyer on your side. McDivitt Law Firm has an expert legal team that has been representing Denver drivers in complex automotive accidents.
What is the Bottom Line?
It's difficult to say where you would stand in the event you were seriously injured in an Uber accident and were required to make an Uber accident claim. Legislators from New Jersey addressed the Uber accident issue recently, coming up with a comprehensive set of Uber accident policy standards. Under the New Jersey rules, if a driver is not logged in to the ridesharing app, his or her own insurance policy is liable in the event of an accident, but if the Uber driver has a passenger, the driver and the company must maintain a total of $1.5 million in coverage for death, bodily injury and property damage. The goal of the New Jersey lawmakers was to prevent claims from being bounced back and forth.
It is unclear if this coverage policy is enough to cover a victim in the event of a severe injury in a car crash. If drivers are hospitalized, sent to the ER, or suffer disability, they may not get the payout required to cover their high medical bills.
Getting Help from Uber Accident Lawyers
 Beyond hoping for the best when you use Uber, if your driver is involved in an accident and you are left with injuries, the best thing you can do is to call experienced Uber accident lawyers who can evaluate the circumstances surrounding your accident, and determine the best way to proceed with your Uber accident claim.
Contact Our Colorado Accident Attorneys
 The lawyers at McDivitt Law Firm have helped thousands of people in Colorado who have been injured in car accidents. The McDivitt legal team understands that you need to pay for medical expenses and living expenses if you are out of work. We also know that rideshare accidents are complicated and we work hard for all our injured clients.
Contact us now for a free consultation or call us toll-free at (877) 846-4878.