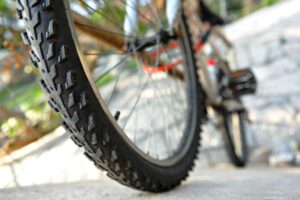 Spring is in the air (for the most part), and that means it's time to get out on your bicycle. Therefore, I thought it appropriate to discuss Colorado laws regarding bicycles. Colorado is well known for its avid bike riders, and it is important for us all to know the rules of the road as a bicyclist and as a driver. Bike riding is great for transportation, exercise, and as a means to explore Colorado.
Colorado Laws: Operation of Bicycles and Equipment Requirements
Colorado statutes provide bicyclist responsibilities and driver responsibilities toward cyclists. C.R.S. § 42-4-1412 states that cyclists have the same rights and duties as that of any driver of a vehicle. The statute also provides operating rules including that:
No bicycle can carry more persons at once than the number it is designed for. Meaning if there is one seat, only one person can be on the bike.
You cannot attach your bike (while riding it) to a motor vehicle on the roadway.
When traveling at a speed less than the current traffic speed, you must stay in the right-hand lane with the exception of certain conditions.
Bicyclists on roadways are not to ride more than two abreast unless on a path or parts of roadways set aside exclusively for the use of bikes.
At least one hand must be on the handlebars at all times.
There are special rules when turning left.
Cyclists must signal intention to turn or stop.
Cyclists must yield to pedestrians.
Additionally, C.R.S. § 42-4-221 requires that your bike have the following equipment:
A headlamp which emits white visible light at least 500 feet between sunset and sunrise (or any other time when there is insufficient light);
A red reflector that is visible for 600 feet in the rear;
Reflective material to be visible for 600 feet between sunset and sunrise (or any other time when there is insufficient light);
The bike cannot have a siren or whistle; and
Review both statutes for all of their requirements. Additionally, local governments may provide additional rules regarding bicycle riding for both riders and drivers. While you are required to obey these laws when riding your bike, they are not the only methods to keep safe. For more information, check out the CDOT Bicycling Manual.
Safety Tips for Bicyclists
Here are some important safety tips for the next time you get on your bicycle:
Wear a helmet!
Make sure your bicycle fits to you.
Check your equipment – tires, chains, brakes, and gears.
Use a headlight.
Always use hand signals. When turning, you must signal continuously at 100 feet before your turn.
Wear something bright.
Watch and avoid road hazards.
Obey all traffic laws.
Never ride against traffic.
Do not pass on the right.
Scan the road behind you.
Never ride with headphones.
Dress for the weather.
Make eye contact with drivers.
Ride in the middle of the lane in slower traffic.
Check out these Traffic Safety Facts from the National Highway Traffic Safety Administration regarding bicyclists and other cyclists. From 2003-2012 "pedalcyclist" traffic fatalities increased, and 69% of pedalcyclist deaths occurred in urban areas in 2012. Also check out this great information about bike efficiency from CDOT.
Safety Tips for Motorists
Cyclists aren't the only ones who should try to prevent cyclist injuries and fatalities. Drivers should follow these safety tips:
Share the road.
Wait until it is safe to pass the bicycle; allow at least three feet when passing.
Refrain from tailgating.
Allow extra time for cyclists to go through intersections.
Watch for cyclists when you are turning.
Do not honk unreasonably at cyclists.
Check for cyclists before opening a car door.
Leave room for cyclists at traffic lights.
Know bicyclists' rights.
When turning left, allow any cyclist ahead of you to pass the junction rather than overtake them.
The Team at McDivitt Law Firm wants everyone, cyclists and motorists, to be safe out there. We hope to see you out on the roads and trials on your bikes! Also check out CDOT's bicycle map. Colorado Spring routes have just been added.