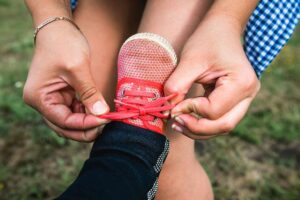 There was an article back at the beginning of the year in The Denver Post which highlighted some horrible things that have been happening due to Colorado's low inspection rates for licensed child care providers. In the article the author notes that from 2006 through March 2014 there were at least 43 child-care operators in the state who had five or more licensing violations each. However, only six facilities were closed, according to The Post. Tragically, between 2006 and 2012, 24 children died from injuries at licensed facilities in Colorado, and at least 10 of those deaths occurred at providers with previous complaints or licensing violations, according to The Post.
Colorado law covers the licensing and inspection of both "child care centers," or a facility that for whole or part of the day cares for five or more children, and "family child care home" which means a facility for child care in a place of residence of a family or person who is providing the care for less than 24 hours for children who are not related to the head of the home. Colorado does require inspection of licensed facilities. However, according to the article, Colorado is one of only five states that allow licensed child-care homes and centers to go as long as three years without an inspection. The author notes that dog day-care centers in Colorado though must be visited every year.
Under Colorado law the state department is required to do an on-site investigation at a child care facility within 48 hours after receiving a very serious complaint. According to The Post, inspectors failed nearly 17 percent of the time to conduct on-site inspections within that required 48 hours. For those allegations deemed serious, inspectors failed nearly 22 percent of the time to visit within the mandated seven days, according to The Post.
Additionally, almost 35 percent of licensees who initially faced suspension or revocation of their licenses from 2006 to March 2014 were able to remain open through appeal or negotiation, according to The Post.
Child Care Licensing Act
C.R.S. §§ 26-6-101 to 26-6-119 is the Child Care Licensing Act. It covers not only child care centers and family child care homes, but other facilities, as well as foster homes. The Act sets out minimum standards, licensing requirements, denial, suspension, or revocation of licenses. More in depth explanation of requirements and regulations can be found in the Colorado Code of Regulations.
C.R.S. § 26-6-107 covers investigations and inspections of child care facilities. This statute also covers the state department's requirements to inform the facility of its determination after an inspection. The statute requires that within ten days after a licensee receives notice of the department's determination that there was no serious violation, it must provide a copy of the written notice to the parents and legal guardians of the children cared for at the child care center facility or family child care home facility. However, C.R.S. § 26-6-108.5 provides that notice must be given parents or guardians after a child care facility or family child care home facility has a negative licensing action or fine imposed on it. In this case the facility must provide the names and addresses of the parents or guardians so that the state department may send a written notice.   It also provides that the department shall track and record complaints.
Signs of Negligence
As a parent you are protective and nurturing of your children. If you're a parent who needs to entrust your children to the care of others, you want a caretaker who will be responsible while caring for your children. However, without you knowing your child could be subjected to neglect while in the care of another.
Signs of daycare negligence may look like the following:
Cuts, scratches, or scars that are unexplained
Burns
Broken bones
Lost teeth
Unreasonable hunger or thirst
Concussions
Unusual aggressiveness
Child appears withdrawn
Things to be aware of that may be dangerous for the child at the daycare center:
Dangerous playground equipment
Electrical hazards or exposed wires
Hazards at the day care or child care facility
Ignoring or neglecting the needs of the child
Unsafe toys
Unsanitary conditions
If you would like to look up a daycare provider you can visit the Colorado Department of Human Services Colorado Child Care Facility Search. Once you have selected a provider you can view the provider's history, including the number of children at the daycare, licensing inspection dates, when complaints were received and if any adverse actions have been taken against the provider.