Colorado requires proper car restraints for children under 8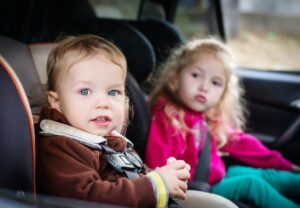 Colorado law defines a "child restraint system" (car seats and booster seats) as:
a specially designed seating system that is designed to protect, hold, or restrain a child in a motor vehicle in such a way as to prevent or minimize injury to the child in the event of a motor vehicle accident that is either permanently affixed to a motor vehicle or is affixed to such vehicle by a safety belt or a universal attachment system, and that meets the federal motor vehicle safety standards.
The relevant statute also states that every child under eight who is in a car shall be properly secured in a child restraint system according to the manufacturer's instruction. The mandatory car seat or booster seat by age is as follows:
Newborn to 1 year old (child weighs less than 20 lbs): Rear-facing car seat in a rear seat of the car required
Ages 1 – 3 (weighs less than 40 lbs, but more than 20 lbs): Child must be properly restrained in a rear-facing or forward-facing car seat (recommended that a child remain in a rear-facing seat until 2)
Ages 4 – 7: Child must be in a forward-facing car seat or booster seat (it is recommended that child be in a booster seat until they are about 4'9")
55% of children's death due to a car accident could be avoided if the children were properly restrained
Drive Smart Colorado has provided a lot of information regarding child passenger safety. In fact, did you know that motor vehicle injuries are the leading cause of death among ages 3-14 years old in the U.S.? From 2006-2010, 64 children, ages 0-12, died in traffic crashes in Colorado. 55% of those children were improperly restrained. It is important to properly know how to buckle-up children in car seats and booster seats. In fact . . .
There are places in town where you can get a car seat Safety Check
For example:
Colorado Springs
Kohl's Cares Car Safety Program runs checks every Wednesday, times vary.
Call (719) 365-5834
CSPD Child Occupant Protection Program
Downtown – (719) 444-7969
Falcon – (719) 444-7240
Gold Hill- (719) 385-2110
Stetson Hills- (719) 444-3140
Sand Creek- (719) 444-7270
Denver
Denver Health offers monthly checks. Call 303-602-KIDZ for an appointment.
You can also find safety inspection sites at CDOT's website.
You can register your car seat and be notified when there is a safety recall
You can register your car seat by sending in the card that came with the seat to the manufacturer, or you can go to the manufacturer's website and sign up to receive notices. The manufacturer will then provide you warnings about recalls and safety notices. It's really simple, so don't forget to do it!
Booster Seat Evaluations for 2014 are out, check out the best and worst
And some of the best-rated booster seats according to the Insurance Institute for Highway Safety are:
Baby Trend Hybrid 3-in-1
Britax Frontier 90
BubbleBum Neon
Clek Oobr
Cosco Pronto
Cybex Solution X-Fix
Diono Monterey
Eddie Bauer Deluxe Highback 65
EvenFlo Amp
Ferrari Beline SP
Graco 4Ever All-in-1 Car Seat
Harmony Dreamtime
Kiddy Cruiserfix Pro
Kids Embrace Teenage Mutant Ninja Turtle
Safety 1st Store 'n Go
Replace your car seat after a moderate or serve crash
The National Highway Traffic Safety Administration (NHTSA) recommends that car seats be replaced immediately after a moderate or severe car crash. It is not necessary to replace it after a minor crash. According to CDOT, a minor crash is one in which ALL of the following exists:
The vehicle was able to be driven away from the crash site;
The vehicle door nearest the car seat was not damaged;
None of the passengers in the vehicle sustained any injuries in the crash;
If the vehicle has airbags, the airbags did not deploy during the crash; and
There is no visible damage to the car seat.
Please drive safely, and be sure to properly secure your children in the car!