"Individual commitment to a group effort—that is what makes a team work, a company work, a society work, a civilization work."
–Vince Lombardi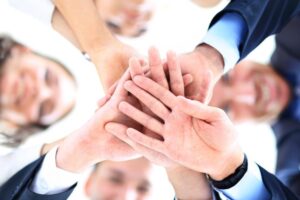 Teamwork, it's great on the field and in the office too. Here at McDivitt Law Firm one of our Core Values is teamwork, and I believe it is essential to work together to receive successful results for our clients.
Teamwork in the Workplace
Teamwork in the workplace is essential to the smooth running of an office, legal or other field. I read a blog recently that covered 6 ways teamwork benefits you in the workplace, and I'd like to share those. Here's what teamwork does:
Fosters Creativity and Learning
Blends Complementary Strengths
Builds Trust
Teaches Conflict Resolution Skills
Promotes a Wider Sense of Ownership
Encourages Healthy Risk-Taking
These are great incentives for working as a Team, especially fostering creativity and building trust. However, these benefits don't have to just be for working with co-workers. Teamwork can also include working together with your clients, which is what we do at McDivitt Law Firm.
Fostering Teamwork with the Client
Simply put, teamwork is the process of working collaboratively with others in order to achieve a goal. In a personal injury case, the goal is to ensure that the victim is compensated for his or her injuries. Not only is it important to work together within the office to achieve this goal for the client, but it is also essential to work together with the client to achieve his or her goal. By working together with clients, we ensure that our clients are aware of what is happening in their case and that they know the entire team cares about that case.   As mentioned above, teamwork builds trust between the attorney and client as well.
McDivitt Law Firm prides itself on fostering a respect for teamwork because working together is the best method to resolve problems. Without this Core Value, successful resolutions to cases would begin to fail.
For more blogs on our Core Values, check out these: