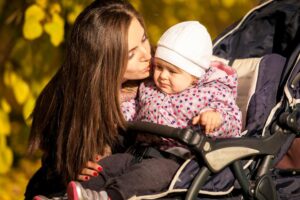 As a parent, a stroller is a pretty useful tool for you. It is your way of transporting you children, both conveniently and safely. In fact, these products are used every day across the country by many families. Unfortunately, a product meant to be used by many safely, can be involved in serious injuries to children ages 5 and younger. A recent study published in Academic Pediatrics looked at data from 1990 to 2010, and found that nearly 361,000 children in that age group were treated in the ER for injuries that occurred while in a stroller or carrier. According to the researchers, that works out to about an average of two injuries an hour!
Types of Injuries Associated with Strollers
Stroller related injuries can vary. The most common of these injuries are traumatic brain injuries (TBIs) and concussions. Sadly, these types of injuries can have long term consequences in someone so young. And according to CNN, brain injuries related to strollers and carriers tripled from about 17% in 1990 to roughly 53% in 2010. Injuries related to stroller incidents include:
TBIs, concussions and other head trauma,
Contusions or abrasions,
Lacerations, and
Extremity fractures.
Additionally, the median age at the time of a stroller related injury is around 11 months, which can be scary to think about.
RELATED >>  Strollers, car carriers send thousands of kids to ERs
Luckily, most injuries are minor, but still the heartache that can come from seeing your child hurt, probably makes you want to do everything you can to prevent any injuries. Here are 8 ways to help avoid injury:
Newer is better. Make sure you are only using a stroller or carrier made after September 2015, because as of this date, these products are required to meet certain mandatory standards.
Always properly clip or buckle in your child to prevent falls.
Check on your stroller or carrier at gov to make sure your product is not unsafe, or check on recalls at www.recalls.gov.
Make sure the stroller or carrier is appropriate for the size of your child. Do not allow them ride in one that is not.
Read over the stroller's instructions for assembly, care and use carefully.
Never leave your child unattended in a stroller.
Do not allow your kid to climb into the strollers themselves. Always assist your child; this will prevent the stroller from tipping.
Be careful with bags. Strollers can tip and when bags or other items are placed on handles this can cause it to tip over. If you have a stroller with a wider base, you could place bags below.
We hope that these tips help to keep the children of Colorado safe.
If you found this blog informative, you may also be interested in the following: