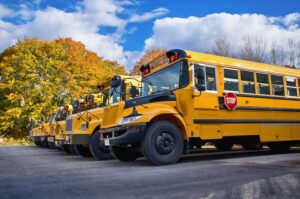 The kids are all back to school now, and that means paying attention to school buses and school zones. Yet, you've probably heard of the unfortunate accidents involving school buses in recent news reports. So, how safe are school buses?
School Bus Design
According the National Highway Traffic Safety Administration (NHSTA), school buses are designed to be safer than cars in avoiding crashes and preventing injury. In a flyer put together by NHSTA, they list the following aspects that make school buses safer:
Crush standards, size, and height
Flashing red lights
Well-trained and screened drivers
Cross-view mirrors
Reinforced sides
Bright color
Stop sign arms
NHSTA has also put out a flyer noting that school buses are the safest mode of transportation for getting children back and forth to school. In the flyer it highlights that of student fatalities occurring when traveling to and from school, 58% occur with teen drivers, 25% with adult drivers, and 1% by school bus.
And did you know that school buses keep an annual estimated 17.3 million cars off the roads surrounding schools each year? That's a great benefit!
What about seat belts?
The NHSTA requires all new school buses to meet Federal motor vehicle safety standards in addition to those standards that apply to all other passenger vehicles.
The NHSTA also has an FAQ section regarding seat belts. In it they answer that since school buses are designed differently, and thus, use a different kind of safety restraint system. This is because school buses are heavier and distribute crash forces differently than cars. Therefore, the best way to provide crash protection is through "compartmentalization." According to the NHSTA, this requires that the interior of large buses provide protection to children without the need to buckle-up in the form of a protective envelope consisting of strong, closely-spaced seats that have energy-absorbing seat backs. On the other hand, small school buses (with a gross vehicle weight of 10,000 pounds or less) must be equipped with seat belts at all designated seating positions. The NHSTA cites that school bus crash data shows that compartmentalization has been effective at protecting its passengers.
For more information on school bus related crashes check the NHSTA's reports.
While it's great to hear how safe school buses are, there are still unfortunately accidents involving students in school loading zones. Please everyone be aware when you are in a school zone and follow the laws when around school buses. Too often I hear about pedestrian students being stuck by cars, and these preventable accidents are heart-wrenching. Always be observant while driving near schools and school buses.