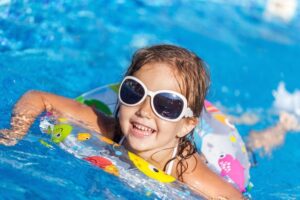 It's summer, and the perfect time to hit the pool, or in Colorado even a lake or reservoir. There's nothing better than a relaxing dip in the cool water on a hot summer's day. However, there are inherent risks to being in the water, and we urge you to use caution and common sense when out in the water.
Why is this so important? Everyday 10 people die from unintentional drowning. Drowning in fact ranks fifth among the leading causes of unintentional injury death in the U.S. Additionally, about 1 in 5 people who die from drowning are children ages 14 and younger, and for children in this age group drowning is the 2nd leading cause of unintentional injury death. When you are out enjoying recreational water activities it's important to be aware of all important safety measures. Sadly, it can take only 20-60 seconds before a drowning victim sinks underwater.
What are some drowning risks?
According to the CDC, the main factors that increase the chances of drowning are:
Lack of Swimming Ability
Lack of Barriers
Lack of Close Supervision
Location
Failure to Wear a Lifejacket
Alcohol Use
Seizure Disorders
It is important to be conscious of all these factors when at the pool or out on open water.
What precautions can I take?
The National Safety Council has some great information to help prevent drowning incidents. It provides some of the following safety precautions:
Never leave a child alone
Lifeguards aren't babysitters; keep your eyes on your child
Don't let children play around drains and suctions
Always have a first aid kit ready and be prepared for an emergency
Get training in CPR
Never swim alone
Don't dive into unknown bodies of water
Drains and Suction Risks
In 2007, the Federal Government enacted Virginia Graeme Baker Pool and Spa Safety Act. This Act requires that public pools that use a drain be equipped with an anti-entrapment drain cover and an automatic release system that shuts off the pump if a drain is blocked. The federal law does not cover homeowners' pools. The Act sets out minimum state law requirements in regards to pools and spas. The purpose of this law is to prevent further injuries and death due to people, especially children, being entrapped from drain suction. For more information and for a safety video, check out poolsafely.gov.
Be aware that other injuries can occur in the water other than drowning. These include neck fractures (diving into shallow water), head injuries (slipping and falling), electrocution, medical emergencies (seizures, heart attack, etc.), and alcohol related injuries.
Remember, please be careful out there this summer while enjoying the fun that swimming and water activities offer.