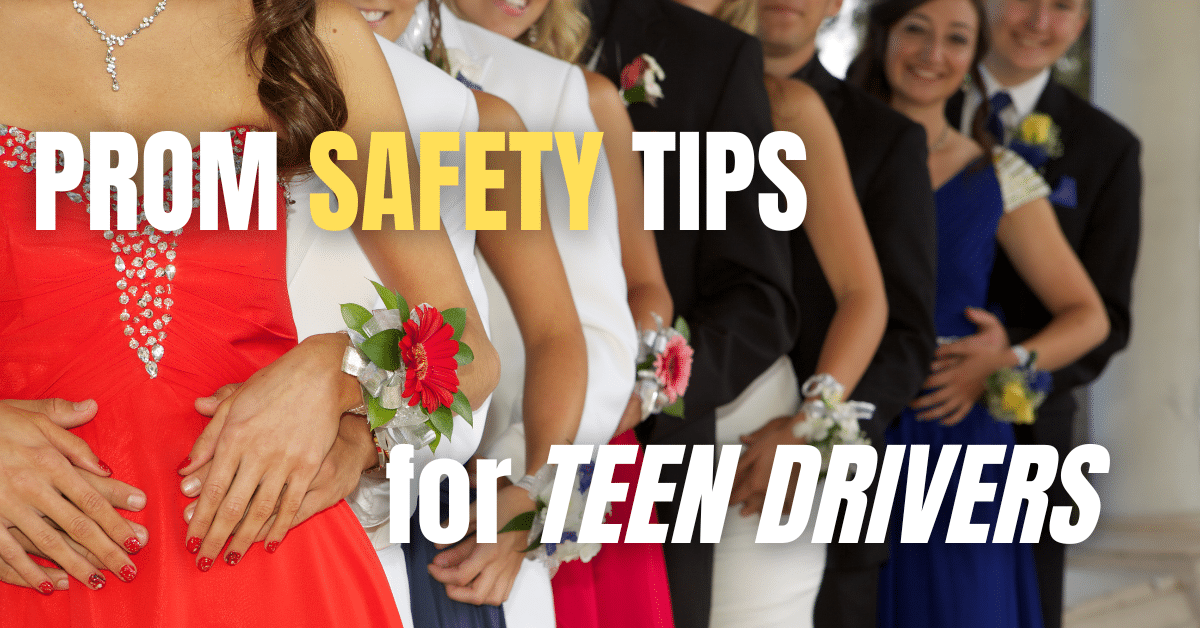 Springtime ushers in a familiar tradition for a new generation of high school students each year. Prom season! For many teenagers, prom cements the end of their high school career and the beginning of life's next chapter. Attending prom is an exciting opportunity for students to dress up, dance, take pictures, and celebrate the achievements of high school with their friends and classmates.
However, it is important to keep safety top of mind and ensure fun is had responsibly and in a safe environment.
Here are a few safety tips for teens who will be involved in the festivities that accompany prom season:
Don't drink and drive

It is against the law for anyone under the age of 21 to buy and consume alcohol and it is against the law for anyone to drink and drive. While many movies and television shows have depicted prom as a time for young people to consume alcohol, it is still illegal for them to do so, and the reality is it puts teenagers at great risk for horrible crashes, as well as life-changing legal issues.

Stay off your phone

Distracted driving is one of the leading causes of car crashes on our roadways. With high schoolers becoming ever more reliant on cell phones and social media, it is important to emphasize the dangers of distracted driving. It is a good idea to wait till you arrive at your destination to start taking pictures and videos to commemorate your time at prom.

Use your seatbelt

It is against the law to operate a vehicle without the use of an approved safety belt. A large number of young drivers who suffer fatalities as a result of a crash were not wearing a seatbelt. A little wrinkle on your suit or dress is easier to deal with than a serious car crash.

Drive safely

It is good practice not to have more people in the car than are allowed based on proper seating arrangements. The more people in the car the more likely that the driver will become distracted due to the amount of activity happening in the car. It is important that the passengers in the vehicle wait until they arrive at their destination to begin the celebration. It is imperative that the driver focus on getting everyone to their destination safely. The driver should be focused on making good decisions on the road and not distracted by their passengers.

Practice defensive driving

Be aware of other drivers on the road and anticipate their actions. Other people may engage in reckless activities that could impair their abilities to safely operate a vehicle. Give other motorists ample room on the road, stay focused, and never make assumptions about other drivers or vehicles. Defensive driving can help prevent crashes.

Don't speed

It is always important to follow the speed limit, but it can be easy to get caught up in the excitement of the event. While speeding is a thing that happens on every roadway, it is important to be aware and to drive safely because even if you aren't the one speeding chances are someone on the road is.  Follow the traffic laws, drive the speed limit, and don't try to rush or make up lost time by speeding or running red lights. Prom will still be there even if you are a few minutes late!

Do not get behind the wheel drowsy

Operating a vehicle while tired or drowsy can be just as dangerous as driving under the influence. If you feel sleepy, take a break and rest before getting back on the road. Or, have plans arranged that a parent, friend, or relative is available to pick you up if necessary. It is not worth the risk to drive if you are not fully alert.
Here are a few tips for parents to help make sure that everyone has a safe and fun evening:
Set out ground rules

Speak with your teens about the importance of being safe and following the rules of the road if they are choosing to drive to prom. It is important that they exhibit safe driving habits while driving to and from their destination.

Get a driver/ride for your teen

Many teens will be getting together with their friends prior to prom to take pictures and have food before going to the prom. It is a good idea to speak with the parents of the group that your teen will be attending prom with and hire a limo or a bus to drive them to and from prom. This allows a professional to take care of the driving and will be able to calm any nerves you may have about your teen driving on this night that is already filled with excitement and anticipation. Hiring a limo or bus allows your teens to be able to not worry about the dangers of driving and just enjoy their night while in the hands of an experienced professional.

Host an afterparty

The reality of the situation is that prom does not end when the teens leave the school dance. A large number of parties will be happening that evening because that may be one of the last times that the teens are able to get together with their friends from high school prior to going off to college or work.  This is a good opportunity to host a get together and offer your teen's friends to stay the night. This is to ensure that nobody has to worry about driving late at night and everyone can enjoy a safe night of supervised festivities.
Look out for others
If you are attending prom with a group of friends, it's important to look out for each other and be responsible for each other's safety. Even if someone is not in your immediate friend group, it is a good idea to keep an eye out for any reckless behavior you may witness. It could save a life.
Here are some tips on how to be responsible for other teenagers at prom:
Have a designated meeting spot: Before the event, agree on a designated meeting spot in case you get separated or someone needs help.
Be aware of your surroundings: Keep an eye out for potential dangers or risks, such as alcohol or drug use, fights, or unsafe behavior.
Help prevent drunk driving: If you see someone who is drunk or under the influence of drugs, do not let them drive. Offer to call them a ride or help them find a safe way home.
Encourage responsible behavior: Encourage your friends to make responsible decisions and avoid risky behavior.
Communicate openly: If someone needs help or is feeling uncomfortable, encourage them to speak up and communicate openly with you.
Stay together: Stick together as a group and don't leave anyone behind. If someone wants to leave early or go home, make sure they have a safe ride.
Be a positive influence: Set a positive example and be a good role model for your friends. Encourage them to have fun in a safe and responsible way.
By being responsible for each other's safety and well-being, you can help ensure a safe and enjoyable prom experience for everyone. Remember, prom is a time to celebrate and make memories, but safety should always be a top priority.
Learn more about auto accidents.