In recent years, online purchases have started to dominate the gift shopping experience and now with the pandemic even more people are turning to this method. We created a guide below to help you navigate through ordering and sending gifts safely so you can stay on the 'nice' side of the law.
Protecting Your Deliveries
One of the down sides to having packages delivered to your home, is the possibility of theft once it is sitting on your front step. Value Penguin estimates that 144 million people were the victims of package theft in 2019, resulting in a total of $7.4 billion in stolen goods.
So what can you do to help prevent porch pirates from stealing your packages?
Track your packages and when possible sign up for text alerts so you know exactly when your package has arrived. The sooner you bring your package in, the less likely it will be stolen.
Install a camera system. There are a lot of doorbell/camera systems on the market now that are easy to install and are more affordable than traditional camera systems. You don't necessarily need an elaborate security system to help prevent package theft. One small camera on your door can make all the difference!
Insure your package. If you are having expensive items delivered, you may have the option to insure your package for a few extra dollars. Additionally, you may have the option of only having the item delivered if there is someone home to accept it.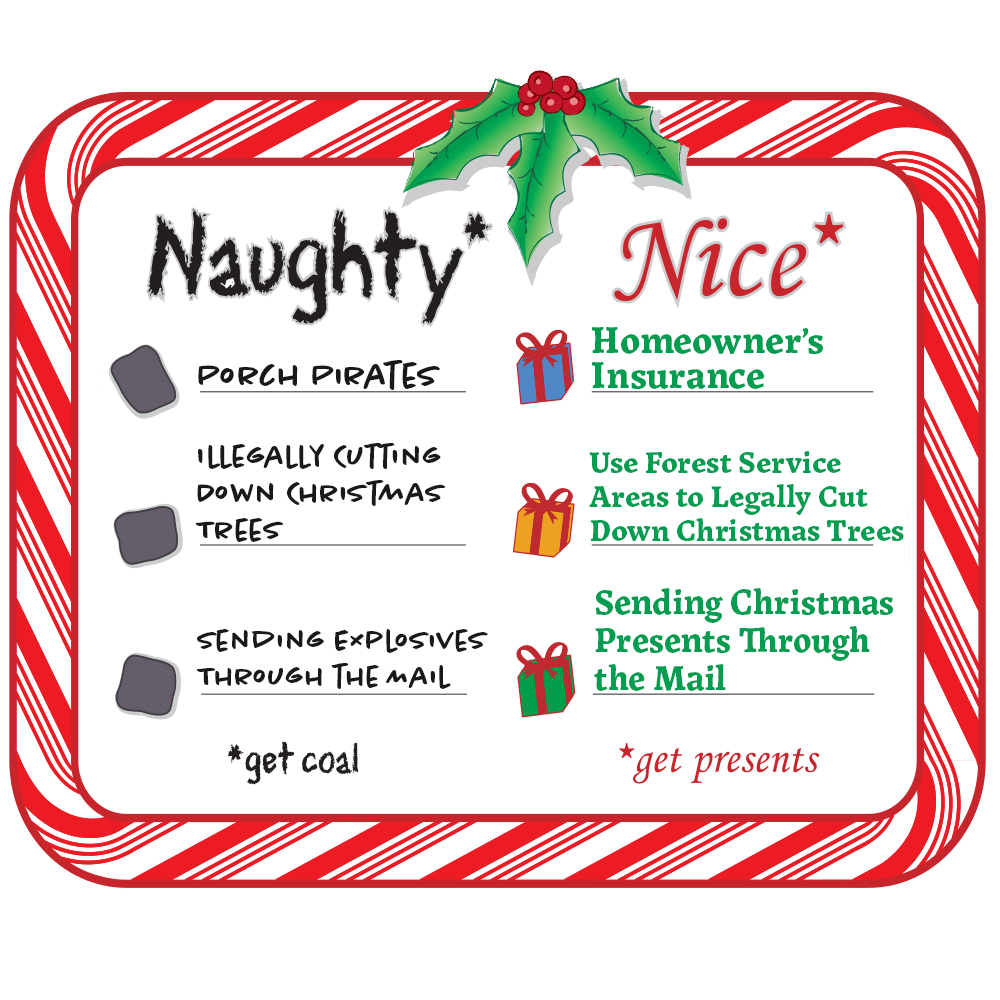 Are there items I will not be allowed to mail as gifts?
With more distanced holiday celebrations this year, you may be relying on mailing gifts to loved ones. Although most gifts you will likely be sending are perfectly acceptable, there are some important guidelines to keep in mind:
Toys with Batteries: Battery operated electronics may be shipped, but you must be sure that the batteries are taken out of the device. Once taken out of the device, the batteries can also be included in the package when it's time to send.
Perfume: If shipping perfume with alcohol, you must select a ground transportation method due to flammability concerns. This restriction also applies to hand sanitizer.
Perishable Items: Although food items and other perishables are ok to send via the USPS, you must be aware that you are doing so at your own risk. There is no guarantee that the food will be safe to eat once arriving to the destination.
Here are some items you are NOT allowed to send through USPS:
Alcohol and Marijuana: Even if you think you aren't breaking the law by sending marijuana from Colorado to another recreationally legal state, this is strictly forbidden. Along with alcohol and tobacco products it is illegal to mail any controlled substance.
Live Animals: Most live animals are not allowed to be mailed, but there are certain exceptions and restrictions for poultry, reptiles, and bees.
For a complete list of rules and regulations from the USPS click here.