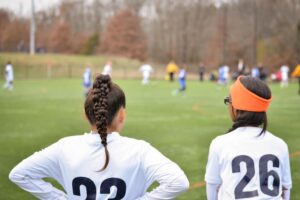 Sports are a great pastime and for keeping in shape, but they are not without their dangers. In the past few years, it seems that the dangers associated with youth sports have been on the rise. And after watching the movie Concussion with Will Smith, which focuses on the discovery of chronic traumatic encephalopathy in football players, I felt the need to cover ways for us to keep our young athletes safe while letting them still engage in sports.
Basic Tips
Every year, more than 3.5 million youths in the U.S. are treated for a sports-related injury. The National Council of Youth Sports has put together 8 Ways to Keep Athletes Safe. They include:
Get a pre-participation exam.
Have an emergency action plan.
Beat the heat by gradually acclimatizing athletes to warm weather.
Use your head, and encourage athletes to speak up if hit in the head.
Obtain athletes' medical history.
Ensure equipment is in working order.
Provide proper coaches training.
Encourage coaches to complete a sports safety course.
Most of these are pretty simple and encourage a safe atmosphere on the field, court, or rink.
Additionally, stopsportsinjuries.org has some great tips for individual sports on how to prevent injuries. For example, for football it covers the most common injuries in players and then provides tips on how to prevent these injuries including:
Perform proper warm-up and cool down routines
Consistently incorporate strength training and stretching
Hydrate adequately
Wear properly fitted protective equipment
Tackle with head up and do not lead with the helmet
The website lists about 25 other sports with in depth coverage and tips. It also has the opportunity for you to be an advocate for sports safety by taking their pledge to STOP sports injuries.
Safety Tips to Prevent Brain Injuries
According to the Children's Hospital at Vanderbilt, traumatic brain injuries account for more than 20 percent of all sports/recreational related injuries among children in the U.S. Vanderbilt has provided some tips to prevent brain injuries. Prior to participating in a sport do the following:
Consider pre-concussion baseline testing.
Check with the school or league to ensure there is a concussion policy statement.
Known the symptoms and what to do if you suspect a concussion.
Insist on the use of protective equipment.
After a head injury do the following:
Remove the athlete from play.
Have a healthcare professional evaluate the athlete.
Make sure the athlete's parents or guardians are informed about a possible concussion.
Keep the athlete out of play for the reminder of the day and until a health care professional says they can return to playing.
Do not let athletes persuade you that they are "just fine."
It's important for not only parents and coaches to be aware of these tips, but our young athletes as well. The more awareness we spread about sports injuries and ways to prevent, the more we are helping our young athletes to succeed in their fields.
If you enjoyed this blog, you may be interested in the following: