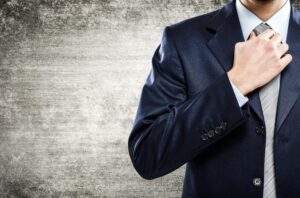 Let's cover what to wear, and what NOT to wear when attending court. Don't worry; when you appear in court you don't have to dress to the nines, and you don't have to dress like an attorney (in other words don't worry about pulling out a three piece suit). However, dressing appropriately is not only respectful to the court, but it helps with your overall presence to the judge and/or jury. You don't have to forgo comfort (I know appearing in court, especially for the first time can be quite stressful); however, you don't want to show up in your pajamas either.
So, here is a list of What to Wear to Court:
Men:
A nice pair of pants (if belt loops are present it is best to wear a belt)
A button-down, collared shirt preferably with a tie, but it is not necessary (a polo may be appropriate as well, depending on the type of hearing)
Jacket or blazer if you have one
Shoes with socks
Women:
Dress pants
Skirt of appropriate length (preferably no more than two inches above the knee)
A blouse, sweater, or dress shirt
A business casual dress
Nice shoes (think conservative, no really tall heels)
Pretty simple, right? Merely try to present the best image of yourself that you can. For example, think about what you would wear to work, church or a nice function.
Now, here's a list of What NOT to Wear to Court:
Ripped or holey jeans (or jeans at all if possible)
Low-cut or low ride pants (nothing that reveals underwear)
A miniskirt
Tank tops (specifically spaghetti-strapped tops)
Crop tops
Sweatpants or lounge pants
Hoodies or sweatshirts
Exercise or loungewear
Shorts
Pajamas
Flip-flops
Baseball caps or other hats
Clothing with inappropriate words or emblems
And if you don't believe me that people actually come to court in pajamas, here's a recent blog from the Wall Street Journal. Apparently, a judge in Pennsylvania had a simple dress code: No pajamas. In the end, think of how you want to present yourself to the judge and jury. Most people want to make a good impression. With the appropriate clothes and attitude, you won't have to fear the courtroom.