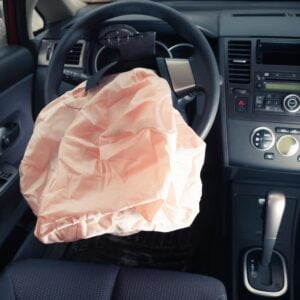 We all know that airbags can save lives; however, they can also, on occasion, cause injuries, especially if the airbag is defective due to its design. Did you know that airbags can deploy at speeds as high as 200 mph? With that kind of speed, airbag injuries can happen, but there are ways to prevent serious injuries. Remember, frontal airbags are important safety devices and reduce death by 29% for drivers and driver-side airbags reduce death by 37% according to the Insurance Institute for Highway Safety.
The most common injuries caused by airbags deploying are:
Abrasions to face and upper body
Contusions on face and upper body
Strain or fracture to neck
Fracture or break of the face
Fracture or break in the ribs
Concussion
Traumatic brain injury
Eye injury
Hearing loss or ear trauma
Irritation of the skin
How to Prevent Injuries
Now that you know how fast an airbag can deploy, it's important that you consider the following safety tips in order to lessen your chances of being severely injured. Most importantly, airbags are designed to offer the most protection when you are wearing a seat belt and sitting properly in your seat.
Safety Tips:
Always wear a seat belt!
Keep no fewer than 10 inches between you (if you are the driver) and the center of the steering wheel airbag.
Move the seat as far back as safely possible.
Never let children younger than 12 ride in the front seat.
Always replace airbag after deployment.
Do not place a rear-facing child car seat in a seat that has frontal airbags.
If the service airbag light is on, immediately schedule an appointment for your car to be serviced.
Women in the late stages of pregnancy should avoid driving whenever possible.
Children should not lean against the door area where an airbag is stored.
For more information on airbags, check out the Insurance Institute for Highway Safety. If you are in a car accident and an airbag deploys you should seek medical attention to rule out any and all injuries. You may also need to follow-up with your doctor sometime after the accident as well.