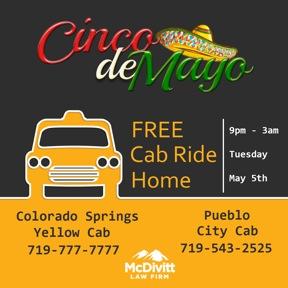 McDivitt Law Firm is offering free cab rides home on the evening of May 5, 2015 from 9pm – 3am to help keep our roads safe while people are out celebrating Cinco de Mayo in Colorado Springs and Pueblo. All you have to do for a free cab ride home is tell the cab driver "It's on McDivitt."
If you are out celebrating this Cinco de Mayo, we encourage you to have a plan for how you'll get home safely. You can designate a sober driver, arrange to have someone pick you up, or hail a cab on us. The firm will pick up a tab for any Yellow Cab or City Cab ride, as long as the passengers are headed home—the free ride is not available from a bar or restaurant to another drinking establishment.
It's on McDivitt!
For a safe ride home, call one of the following cab companies and tell them your ride home is on McDivitt Law Firm:
Colorado Springs.  Call Yellow Cab of Colorado Springs at  (719) 777-7777.
Pueblo & Pueblo West.  Call City Cab of Pueblo at (719) 543-2525.
Guidelines for a Safe Ride Home
The Safe Ride Home program is for adults who have been drinking or who don't have another safe way home. Rides are provided to an individual's residence—not to other drinking locations. Due to the high number of ride requests, rides cannot be guaranteed for everyone who calls; however, every attempt will be made to accommodate all requests. Drivers have the right to use their discretion when accepting fares. Patrons are reminded to tip their drivers accordingly.