McDivitt Law Firm is actively investigating business interruption insurance claims on behalf of Colorado businesses forced to suspend their operations during the COVID-19 outbreak. Almost as a matter of course, these businesses have received blanket denials from their insurance companies when they file claims for the loss of business they're sustaining each and every day. While businesses deemed non-critical have been forced to cease operating, even those businesses deemed critical have seen significant slowdown in their businesses.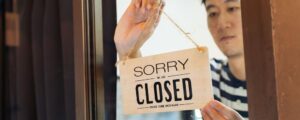 There May Be Insurance Coverage to Relieve Business Owners
Business interruption insurance, also known as business income insurance, is designed to cover, among other things, the loss of income that a business suffers as a result of the physical loss of the property, which in many instances can be defined as any impact on the property which prevents the property from being used for its intended purpose. Nonetheless, the Property and Casualty insurance sector, which took in over 50% of the $1.22 trillion in net premiums paid by their customers in 2018 alone, is largely taking the position that they don't need to make good on the policies they've been selling to their business customers for years.
McDivitt is Now Pursuing Business Interruption Cases
Along with their legal partners across the country, McDivitt is pursuing these claims and working to provide legal recourse and financial compensation for these businesses facing blanket denials in coverage. Even businesses with Virus Exclusions in their policies may find relief through this process. The mandated closure of many business types is unprecedented, and it has put business owners and entrepreneurs in an extremely difficult position. McDivitt Law Firm hopes to recover economic relief for these businesses who have been forced to close.
How Can You Become a Client?
Business owners who would like to speak to McDivitt's legal experts about this potential legal recourse can call the firm's Business Interruption Hotline at (800) 923-2113. There is absolutely no charge for the consultation, and the conversation is completely confidential.
Please visit back for updates and to this blog.