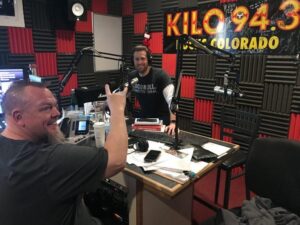 Tune in to KILO 94.3 on the third Wednesday of every month from 8am-9am to hear David McDivitt of the McDivitt Law Firm address legal concerns of residents in Southern Colorado. David has plenty of interesting legal stories and advice to share. If you have any questions or need help deciphering "legalese" be sure to call in at 719-633-KILO or visit here to submit a question.
Episode 5: May 20th, 2020
Legal Issues Covered This Week
Caller: Landlord is pursuing tenant for missed rent payments, although the landlord has already cashed the checks for rent. What legal recourse can the tenant take?
David: David is assuming that the landlord is claiming non-payment for the months you have already paid for. If that's the case, the issue might be that the landlord is not the person cashing the check, which would be their problem, not the tenant's. As far as the details David has heard, it seems like the tenants are compliant.
Takeaway: David suggests sending the landlord a certified letter with a record of all the payments along with proof they have been cashed. Although it sounds like the tenants have been compliant, this will help firm up their case.[bluehr]
Caller: Jordan was serving papers in a remote location, but the residents of the home did not answer the door. Jordan's companion dropped his wallet at the scene which then led the residents to fabricate a story of trespassing, prompting Jordan to go to jail for seven days. Jordan was in solitary because there wasn't a health professional around to check him into the general population. All charges end up being dropped, but Jordan wants to know if he has any recourse.
David: Because this happened about two years ago, David is a little concerned that the statute of limitations could have expired. There are federal laws for false imprisonment or for unreasonable search and seizure, but in this scenario the stronger claim might be against the person who fabricated the story causing Jordan's arrest.
Takeaway: With all cases, the closer you get to a statute of limitations, the more difficult it will become to hire a lawyer. A lawyer must have time to gather the facts and evidence necessary to build a case for a client to file a lawsuit, before the deadline. If you ever have a legal issue you want to pursue, be sure to act as quickly as possible to ensure you do not wait until it's too late for a lawyer to get involved.
For future reference, anyone who is dealing with a similar circumstance of false imprisonment should pursue a civil rights attorney. Attorneys who specialize in this practice area will be able to evaluate the strength of your case and what possible damages there might be as a result.[bluehr]
Caller: If you have been hurt in a car accident, but are worried about going to the hospital because you don't want to be possibly exposed to COVID-19, what is the threshold for making that decision?
David: If you are injured you need to consult with a medical professional immediately. Start by reaching out to your primary care, and if you need to be taken by an ambulance, please do so. Hospitals are doing their best to keep non-COVID patients safe and protected from the virus.
Takeaway: If you are hurt, it is incredibly important to get the medical attention you need. Sometimes you do need to go to the hospital, and other times you can consult with your medical providers virtually.
The most important thing is to get the appropriate treatment for the injuries you sustain. If you have an insurance claim and you do not continue with your medical treatment, it can severely affect the viability of the claim.[bluehr]
Caller: Mazie is wondering if there are any good resources for premade partnership agreements, as she is starting a skincare business with her friend.
David: David thinks it's great to start the business with this type of agreement. He thinks a good first step is to figure out what type of entity they are going to have. Consulting with an accountant and an attorney who specializes in business law will be vital in making sure you have your ducks in a row. You can find a premade agreement from the internet but consulting with an attorney for at least an hour or two to try and pin down the final details would be very beneficial.
Takeaway: The first recommendation would be to hire an attorney to consult with you and make sure you set up the right business entity for your situation. If you must resort to an online template, this is still better than not having an agreement at all, but even a short consultation with an attorney afterwards is beneficial and reassuring.[bluehr]