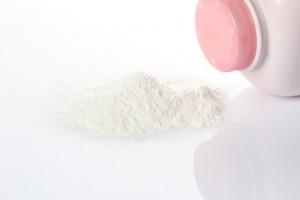 Late February of this year, a jury in St. Louis, Missouri awarded the family of a woman who died of ovarian cancer $72 million. The woman claimed that Johnson & Johnson's Baby Powder and Shower to Shower products caused her to develop ovarian cancer. The plaintiff, Jacqueline Fox, died of ovarian cancer before the case even went to trial.
Johnson & Johnson's Baby Powder and other products are also known as talcum powder. Talcum powder contains the mineral talc, or a hydrated form of magnesium silicate. Talcum powder is commonly found in many hygienic products including not only baby powder, but body powders, foot powders, perfumed powders, deodorant powders, cosmetics, and soaps. It is often used to absorb moisture and odor, keep skin dry, cut down on friction, and to help prevent and treat rashes. Many women use the product for feminine hygiene reasons as a way to stay cool, comfortable and free of vaginal odors.
In the case of Ms. Fox, she had been using talcum powder as a bathroom essential for decades. After developing cancer, she brought a lawsuit against Johnson & Johnson. After a three week trial, the jury awarded Fox's family $10 million in actual damages and $62 million in punitive damages. During the trial, Ms. Fox's attorneys introduced evidence that Johnson & Johnson was aware of the risks associated between "hygienic" talc use and ovarian cancer as of at least 1997. Johnson & Johnson failed to warn its consumers of the risk of cancer, and chose to hide this information and continue to sell the product without a warning label.
Studies from the 1970s in The Lancet, a medical journal, already discussed the link between talc and ovarian cancer. Furthermore, a 1992 study in Obstetrics & Gynecology found that those women with exposure to talc in the genital area had a significantly greater risk when they applied it: 1) directly as a body powder, 2) on a daily basis, and 3) for more than 10 years. The data in the study supported the idea that a lifetime pattern of talcum powder use for feminine hygiene purposes may increase the risk for epithelial ovarian cancer. Most recently, a study published in June 2013 in the medical journal, Cancer Prevention Research, found that women who used talcum powder for feminine hygiene purposes may increase their risk of developing epithelial ovarian cancer by 20% to 30% compared to those who do not apply talcum powder.
Johnson & Johnson now faces at least 1,200 still-pending lawsuits and possibly thousands more regarding the use of talcum powder by women for feminine hygiene use, especially after this jury verdict.
For more information on this, check out the Wall Street Journal's piece on the jury verdict.