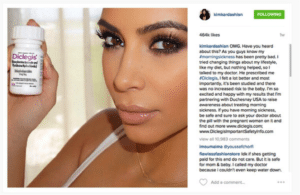 Did you catch when Kim Kardashian posted on Instagram, back in July, a picture and words of praise for a morning sickness drug? Ok, I admit neither did I, but I did see the New York Times article regarding the situation, and the F.D.A.'s response thereafter.
Ms. Kardashian is pregnant, and has been battling morning sickness, or in the world of Instagram, #morningsickness. She posted about the drug, Diclegis, which she has been taking to combat her morning sickness, and told her followers how it has made her feel much better. She also added that "it's been studied and there was no increased risk to the baby."
Diclegis (doxylamine succinate and pyridoxine hydrochloride) is the only FDA-approved medication for the treatment of nausea and vomiting due to pregnancy in women who do not respond to "conservative management." However, while the drug is approved for the treatment of morning sickness, Ms. Kardashian's comments are not "FDA approved."
The Issue
The New York Times article notes that federal regulators have been faced recently with issues involving social media—that is the "casual" promotion of drugs and other products by celebrities on social media sites. The issue is that sometimes this kind of posting becomes a form of marketing, for which there are federal regulation requirements. Therefore, after Ms. Kardashian's post, the FDA issued a warning letter to the drug's manufacturer, Duchesnay, Inc., warning the company that her post was "false or misleading in that it presents efficacy claims for DICLEGIS, but fails to communicate any risk information associated with its use and it omits material facts." While the Instagram post does include a link to www.DiclegisImportantSafetyInfo.com, the issue is that the post "entirely omits all risk information."
Important information omitted in Ms. Kardashian's post includes that Diclegis has not been studied in women with hyperemesis gravidarum (persistent, severe vomiting), that it is inadvisable for women with known hypersensitivity to doxylamine succinate, other ethanolamine derivative antihistamines, pyridoxine hydrochloride or any inactive ingredient in the formulation, as well as in women who are taking monoamine oxidase inhibitors (MAOIs) to take the drug, or any common side effects.
The real issue here is that Ms. Kardashian mentioned in the post that she was "partnering" with a subsidiary of Duchesnay USA to "raise awareness about treating morning sickness," and includes links to their website. In general, the FDA does not have the power to dictate the comments of an independent organization or person, unless they are acting on behalf of a particular company. According to the New York Times article, Duchesnay would not share any details regarding its arrangement with Ms. Kardashian, but an executive did admit that the company had contacted her after hearing she had morning sickness. And to make matters just a little more problematic for Duchesnay, the day after Ms. Kardashian took to Instagram, the company issued a public statement, stating that Ms. Kardashian found morning sickness relief with their drug and encourages others to speak with their healthcare providers.
Ms. Kardashian is not the first celebrity to promote a drug, and she won't be the last to do so on social media. However, given the fact that many drugs and medical devices have serious complications and risks associated with them, it's advisable not to take the advice of a celebrity. Always remember to speak with your healthcare provider and make sure you know all the facts. Other drugs have been given to pregnant women to treat morning sickness, often for off-label purposes, which have had negative side effects. Check out the drug Zofran for example on drugclaim.com.