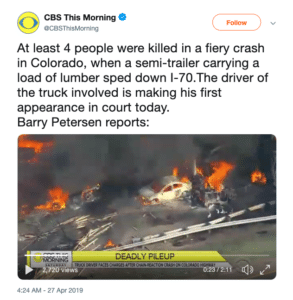 Stay informed of Colorado laws when it comes to accidents with semi-trucks, big rigs, vans & other commercial vehicles
One of the most horrific commercial vehicle accidents in Colorado history recently made international headlines. 
The tragic, fiery crash on I-70 in Lakewood won't be forgotten anytime soon, but it's important to remember that accidents involving commercial vehicles occur daily in Colorado. In fact, while semi-trucks and big rigs typically form the picture of commercial vehicles in our mind, these are only the tip of the motor vehicle iceberg. Even a standard pickup truck–the type you drive by dozens of times a day–can qualify as one. 
Such diversity makes commercial vehicle accidents more complex than others, requiring extensive investigation and aggressive legal representation. And after more than 40 years of fighting for the rights of commercial vehicle accident victims, we've learned what it takes to collect the compensation you deserve. Some of the biggest settlements in Colorado state history have been achieved by the attorneys at McDivitt Law Firm.
So, if you or someone you know have been hurt in an accident involving a commercial vehicle in Colorado, here's what you need to know.
Understanding the differences between the types of commercial vehicles will significantly impact your case and your ability to collect compensation.
Colorado law defines a commercial motor vehicle (CMV) as: 
"…any self-propelled or towed vehicle bearing an apportioned plate or having a manufacturer's gross vehicle weight rating (GVWR) or gross combination rating (GCWR) of sixteen thousand one pounds or more, which vehicle is used in commerce on the public highways of this state or is designed to transport sixteen or more passengers, including the driver; and (II) Any motor vehicle designed or equipped to transport other motor vehicles from place to place by means of winches, cables, pulleys, or other equipment for towing, pulling, or lifting, when such motor vehicle is used in commerce on the public highways of this state."
In other words, a pickup truck that is hauling another vehicle could actually fall into the CMV category. This is just one example highlighting the fluid and challenging definition of CMVs.
Your commercial motor vehicle accident lawyer, however, should always know how to determine a vehicle's CMV status by reviewing these two things:
The vehicle's gross weight rating
The weights of the cargo it's pulling
Depending on the vehicle's designation, this could drastically change the nature of your personal injury case. For example, you might stand to collect hundreds of thousands of dollars more if the vehicle is classified as a CMV instead of a personal vehicle. Doing your due diligence pays.
The types of commercial motor vehicles are more numerous than you think.
If you think radio commercials are the most frequent things you encounter while driving, you may want to think again. The list of CMVs you pass on the road every day is extensive, but these are the most common:
Trucks

Box trucks
Semi-trailer trucks
Big rigs
Vans
Pickup trucks
Flatbed truck
Livestock truck

Buses

Coach buses
Limo buses
Party buses

Trailers
Heavy equipment

Front loader
Tow truck
Pump truck
Cement mixer
Dump truck

Travel trailers over 10,000 pounds
Taxi
Limousine
Pay attention to how many of these you pass on your next drive to the mountains, and you'll begin to understand why the world of trucking law is so complex. If you're still not sure whether the vehicle involved in your accident is a CMV or not, our lawyers are here to help you get to the bottom of it. 
Have You Been Injured in a Colorado Trucking Accident?
At McDivitt Law Firm, we have successfully achieved millions in settlements for our Colorado clients. With offices conveniently located throughout Greater Colorado, including downtown Colorado Springs, North Colorado Springs, Denver, Aurora, and Pueblo, our attorneys are ready and willing to fight for you and your rights to full and just compensation.
We offer free consultations, so you can better understand your rights and options. Tap or click here to learn more: https://www.mcdivittlaw.com/contact.