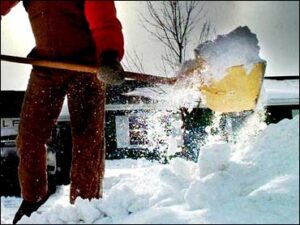 Very few of us actually enjoy shoveling snow. It's tedious, backbreaking and exhausting. But we get out there and do what has to be done. Trouble is that often we do just the minimum. We shovel a path to the front door, a path to the mail box and remove just enough snow to get the car out of the garage. We shovel as little as possible because we think that when it comes to clearing the sidewalk outside our home that it's really the city's responsibility – not ours.
However, that's not the case. Denver requires property owners to clear their walkways so that everyone has safe access throughout the city. Senior citizens, people with disabilities, parents with strollers, and mail carriers depend on clear walkways.
Once snow has stopped falling, property owners and residents have 24 hours to remove snow and ice from public sidewalks adjacent to their property. If they do not remove the snow and ice, the city of Denver will issue a sidewalk safety notice.
If a property owner or resident refuses to comply with the safety notice, Denver will take escalating legal action, which can include issuing an Administrative Citation that carries a $150 penalty. The city of Denver manages 3,000 sidewalk safety cases a year.
When it comes to enforcement, Denver performs proactive inspections in business districts, and they rely on citizen complaints to help them identify those property owners who need to be educated about sidewalk safety requirements.
Legal responsibilities
So, in addition to the safety need to keep your sidewalk free of snow, and ice, you also have a legal responsibility to ensure your property is not hazardous for those passing by. Slip and fall accidents can range from life-altering damage to discs, broken bones, and in some cases more serious injuries.
If you have homeowner's insurance, your policy will cover the costs if someone else is injured, up to the maximum amount of coverage available. If the medical bills are higher than the coverage you have, you can be held personally responsible for those costs.
If you are the victim of a negligently-maintained sidewalk, driveway or parking lot, photograph the scene if you are able and immediately seek medical treatment.
We are here to assist you. If you or your loved one has been injured due to a slip and fall on a snowy or icy sidewalk, please contact the McDivitt Law Firm, toll free at (877) 846-4878. One of our experienced Colorado Personal Injury Lawyers is always available. Initial consultations are always free and confidential. Or you can click here to download a free consultation form. You won't pay us any fee until we collect money for you.