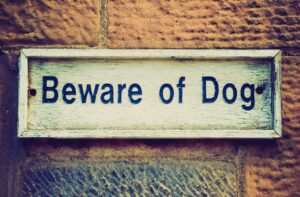 Dog bite cases fall under what we call a premises liability case. Normally, a premises liability action arises from a personal injury due to the negligence of property owners. However, in the case of dog bites, Colorado law imposes strict liability for damages upon a dog owner when a dog bite causes serious injury. Strict liability means that the wrongdoer (the dog owner in this case) has a legal responsibility arising from an injury regardless of negligent actions or intent to harm.
Actions for Dog Bites
Pursuant to C.R.S. § 13-21-124(2), a person who suffers seriously bodily injury or death from being bitten by a dog, while lawfully present on public or private property, may bring a civil action to recover economic damages against the owner of the dog regardless of the "viciousness or dangerous propensities" of the dog or the dog owner's knowledge or lack of knowledge of those propensities. However, if for example, the person had been trespassing on someone's property, then the trespasser would most likely not recover damages for injuries received due to a dog bite.
Additionally, if a dog owner has not clearly and conspicuously marked on their property a "no trespassing" or "beware of dog" sign, then the dog owner can very likely be found liable for the injuries the victim received because of the owner's dog. However, an owner may not be liable in a situation where the person bitten knowingly provoked the dog. While Colorado law provides for strict liability when it comes to serious dog bites, there are exceptions. Sorting through the details of liability can be extremely difficult, and we recommend at least consulting with an experienced attorney if you have been injured by a dog so that you may understand all of your options.
Additionally, Colorado law provides that if the dog owner had knowledge of the dog's viciousness or dangerous propensities then the victim, or his or her representative, can motion to the court that the dog be euthanized at the dog owner's expense.
A dog owner, who is also the landowner, may be liable for non-economic damages under the Premises Liability Act, which is separate from the statute regarding dog bites. If a landowner fails to exercise reasonable care and a person is injured on their property because of the homeowner's negligence then the injured party can recover for non-economic damages, or for pain and suffering.
The 10 Dogs Most Often Blacklisted by Insurers
Homeowner and renter insurance policies often cover dog bites. Therefore, if you are bitten by a dog, whether on the owner's property or somewhere like a park, the homeowner or renter's insurance will very likely cover your injuries. It is important to seek the advice of an experienced personal injury lawyer to assist in dealing with the dog owner's insurance company and ensuring you are compensated for your injuries.
However, did you know that certain breeds of dog make it harder for homeowners to get insurance which will cover dog bites? Bankrate® has provided a list of the top 10 breeds compiled by Einhorn Insurance that insurance companies often may not cover. The list is as follows:
Pitbull and Staffordshire Terrier
Doberman Pinscher
Rottweiler
Chow Chow
Great Dane
Perro de Presa Canario
Akitas
Alaskan Malamutes
German Shepherds
Siberian Huskies
Obviously, this list illustrates the breeds that are most often viewed as dangerous or vicious and is not necessarily representative of your dog.  However, if you are attacked by one of these dogs, getting compensation for your injuries through an insurance policy may be very difficult and a lawsuit may be required in order recover all damages associated with your injuries.
Also, since it can often be difficult to know the temperament of any dog, no matter the breed, we recommend using common sense and caution before approaching dogs, particularly if you are with young children who could easily be over-powered by larger breeds.