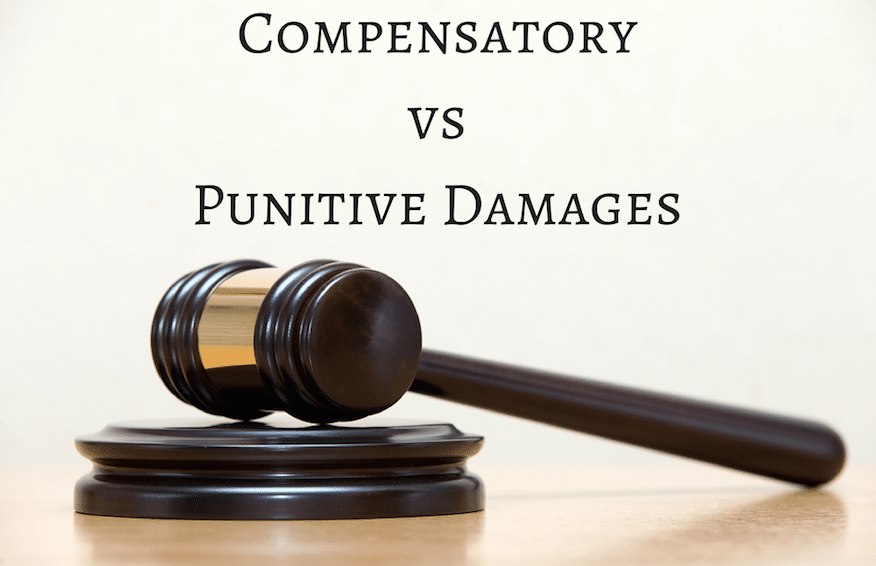 When you get into an accident, you probably spend most of your time thinking about how you can get your life back. However, you might find yourself unprepared, overwhelmed and even a bit frightened by some of the technical jargon and terms that will become part of your everyday vocabulary if you are seeking compensation for your injuries.
If your case makes it to trial, the jury will be instructed to award different types of damages (money awarded by the court) rather than obtaining compensation through an insurance claim that is settled out of court. Two types of damages that can be awarded at trial are compensatory and punitive.
What Are Compensatory Damages?
Compensatory damages are sometimes called actual damages. These damages are designed to cover all the costs of your accident to get you, the injured party, back to where you were prior to the accident. These costs might include lost wages, decreased earning power, medical bills, property damage, and other "actual" damages. These types of compensatory damages are economic and thus more non-subjective.
There are also subjective damages like pain and suffering and disability that might be considered depending on your situation. If your case goes to trial, you will need to prove the specific amount of your damages if you want to be compensated for their full cost. If your case settles instead, you might be compensated for less than the full amount of your damages – particularly if your damages exceed the limits of the insurance policy.
What Are Punitive Damages?
Punitive damages, as the name implies, are designed to punish the other party. Another way of explaining these awards are actions that are attended by circumstances of fraud, malice, or willful and wanton conduct. They're typically only awarded when the other party has broken the law or intentionally injured you. For example, if you get into an accident with a driver who is intoxicated or speeding, the jury might award punitive damages. If the other driver takes off after the accident, becomes aggressive and abusive, or otherwise displays inappropriate behavior, the jury might also consider punitive damages.
You must file a motion to the court for them to even consider awarding punitive damages, and the amount of punitive damages typically depends on the severity of the injuries and how severe the jury thinks the other party's bad behavior was. These awards are subjective and tend to be more case by case based. One thing to keep in mind is that being a victim does not always entitle you to additional awards. Punitive damages are awarded on a more infrequent basis than compensatory damages.
Understanding the difference between punitive and compensatory damages can help you gain a better idea of what to anticipate if your case goes to trial. It may also serve as leverage in settlement negotiations. For example, if the other party behaved very badly, the insurance company may be eager to settle to avoid having to pay out a large sum in punitive damages. Another thing to keep in mind: insurance companies ordinarily aren't liable for punitive damages.
No matter the circumstances of your case, you need to be very careful when negotiating with the insurance company. An experienced attorney can represent your best interests in a way that maximizes your payout whether you go to trial or not. If you have been injured in an accident, contact one of the expert personal injury attorneys at McDivitt Law Firm today to request a FREE consultation.