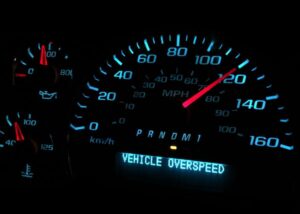 Do you live life in the fast lane when you're driving in LoDo, RiNo, Aurora, or Littleton? Well, on the highway, the repercussions for a speeding ticket could be more serious than you imagine. Although we think of speeding tickets as a temporary inconvenience, they can cause legal problems, fines, and driver's license points. In some cases, having multiple speeding tickets on your record can result in losing your driver's license for a period of time, or even landing in jail.
Speeding Statistics
As many as 112,000 speeding tickets are issued every single day in the United States, with drivers who routinely speed having a one in six chance of being ticketed. Although each state sets the fines for speeding tickets, the national average is about $135 for a speeding ticket of ten miles over the limit. In Denver, these speeding tickets can cost as much as $200, depending on how fast you are going. Even more serious than the fine you will pay is the increase in your insurance premiums. A first speeding ticket usually results in an 18 percent increase in your insurance rates, with those rates jumping a whopping 34 percent for a second speeding ticket. Speeding tickets can also affect your future insurance coverage and make you a riskier driver to insure. Some insurers might drop coverage altogether if you get too many speeding tickets.
About half of all drivers who are ticketed for speeding will take their ticket to court, and of those, about 39 percent will be successful in having their fine reduced, or the ticket dropped altogether. Some more interesting facts about speeding tickets include:
The Subaru WRX is the most ticketed car on the road—34 percent of all traffic violations are given to drivers of this car.
Men are more likely to be ticketed for speeding, but contrary to popular beliefs, men are actually more successful at talking their way out of a ticket.
Nearly a third of all traffic deaths are the result of speeding.
When speed is mixed with drugs or alcohol, the likelihood of a crash increases exponentially. Drunk driving or driving under the influence is dangerous and should be avoided at all costs.
The state of Texas has some of the highest speed limits in the United States—up to 85 miles per hour on certain stretches of open roadways. Predictably, Texas also has the most speed-related traffic deaths.
The state with the highest fine is Virginia, where speeding fines can go as high as $3,000.
Have you ever wondered what is the highest speeding ticket fine ever paid? In 2010 a Swedish driver ended up paying a fine of $290,000 after being stopped for driving his Ferrari 85 mph through a small village.
Car accidents caused by speeding can be a nightmare when dealing with insurance agencies. Even if the at-fault driver is speeding, insurance companies will often fight to avoid paying a fair settlement. If you are involved in an accident involving speeding, you could be looking at serious injuries such as brain trauma, broken bones, and whiplash that might require hospitalization, physical therapy, consoling or physical rehabilitation. Consequences like this are why it's important to have an experienced lawyer on your side who can help you get the claim you deserve from insurance companies.
What is Speeding?
Speeding is not only driving faster than the posted speed limit, but it also includes driving too fast for road conditions, traffic conditions or weather conditions. Speed limits are set for safety reasons and exceeding the limit increases chance of a car accident due to speeding.
In particular, speeding through a school zone or a construction zone is not only illegal, it is extremely dangerous for the workers or the children who are not expecting a huge hunk of metal and steel to come hurtling through an area they believe is safe. Speeding is illegal, and those that frequently speed are also more prone to breaking other traffic laws.
When speeding, you run the risk of paying high fines, losing your driver's licenses and increasing your car insurance premiums—if you have multiple speeding tickets, your insurance company may raise your rates so high they become unaffordable or drop you altogether. As if all the consequences of a speeding ticket aren't bad enough, speed limits may be set in an attempt to reduce the environmental impact of road traffic, to reduce fuel use, and to keep communities safe.
Cities like Denver can be especially harsh on speeders. The frequent construction on roads like Colfax and Colorado, along with highways like I-25 and C-470 mean that speeding is especially risky.
Do your part, and ease up on the gas pedal. You will be glad you did!
Contact Our Colorado Car Accident Attorneys
Were you the victim of a car accident where the at-fault driver was speeding? An attorney may be able to help you maximize your claims against that drivers' insurance company. McDivitt Law Firm has the experience and knowledge to tackle complex car accident injury cases. Our car accident lawyers know how to negotiate with insurance companies in Colorado and obtain maximum compensation for our clients. Receive a free case evaluation or call us at (877) 846-4878.