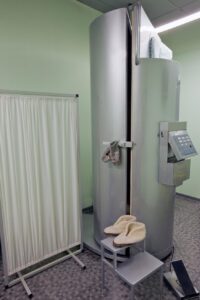 You may have recently heard about the young woman in Nevada who was found dead at a cryotherapy tank at her workplace. A New York Times article first reported about the death at the Rejuvenice spa back in October of this year. Learning of this tragedy reminds us that workplaces can be dangerous, even spas. Given the relative newness of cryotherapy centers, this workplace may be even more dangerous than most without us realizing it.
What is Cryotherapy?
Cryotherapy is somewhat of a new fad that is used by many athletes and celebrities. The treatment involves standing in a chamber filled with super-chilled air. That air can be as cold as minus 150 to minus 290 degrees Fahrenheit. Due to those temperatures, you are only in the tank for three minutes.
Proponents of cryotherapy have stated that it relieves pain, mitigates depression, improves athletic performance, helps you lose weight, and get better sleep. However, to get any of these supposed benefits you must have repeat treatments.
Workplace Safety at Cryotherapy Centers
In the case of the young employee's death, she had used the tank after hours when no one was around. Cryotherapy is a fast growing industry that is not currently regulated by one body and where very few studies have been done on it. The Nevada Occupational Safety and Health Administration were called onto the scene at the spa; however, OSHA officials decided not to have their own investigation at that time, according to the Times. This is somewhat surprising, as I would think OSHA would want to investigate these types of workplace accidents.
However, Nevada officials did decided to shut down the center after the State Division of Industrial Relations found that the company did not have proof of a workers' compensation insurance policy. It is important to employers to have workers' compensation insurance to provide for employees who are injured on the job. New industries should not think that they would be exempt from this requirement. Nevada officials are clear that this center should have had a policy.
According to the Times, Nevada officials then decided to look into the cryotherapy industry, specifically stating they would examine employee safety and whether the tanks were safe for the public as well. It's extremely concerning whenever a death occurs at the workplace, but this incident seems to highlight that lack of safety procedures for employees when it comes to cryotherapy, and it is a good sign that Nevada officials decided to look into this matter.
However, sometimes even with proper safety precautions taken at work, work injuries can occur. Please remember to always be safe at work, whether it is a dangerous job or a new industry.
If you enjoyed this blog, you may also like these: