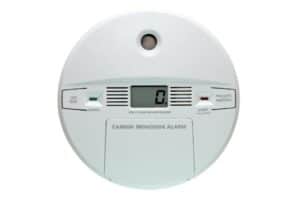 October 26, 2011
With the first big snow storm of the season blowing through Colorado this week, many citizens are beginning to crank up the heat to warm up the house. According to Colorado's 9 News, many forget to do basic, routine checks of their system to ensure they are not in danger of gas leaks or carbon monoxide build-ups.
Experts say the best way to protect your family and home year-round from carbon monoxide poisoning is to install carbon monoxide detectors within 15 feet of every bedroom door of your home, and check the batteries on the devices several times a year. Also, have a professional come out and check your system before turning it on for the season for cleanliness, buildup, and proper ventilation.
President of Bell Plumbing and Heating, Greg Palmer, stated that over time, small animals building nests or snow crushing the cap of the flue could easily plug heating systems ventilation. These two problems can lead to a deadly build-up of gas in your home. He later explained, "Making sure that your forced air furnace and even your boilers are working correctly, are clean, and so they're venting properly, that's your first line of defense in combating carbon monoxide."
The Colorado Personal Injury Lawyers with the McDivitt Law Firm would like to encourage everyone to be safe, both on the road and in the home, as we all prepare for the coming winter. Tell us what you do to get ready for the coming winter months in your household by posting to our Facebook page.