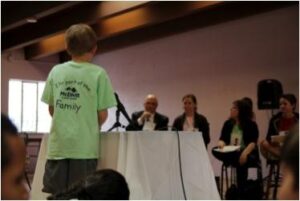 McDivitt Law Firm celebrated Take Your Children to Work Day last Thursday. McDivitt was excited to host the event and had a blast with all the children and parents who attended. As part of the day McDivitt planned many activities for the children to participate in. After receiving a tour of the firm with their parent or adult sponsor, the children participated in a scavenger hunt with the help of Team Members.
The biggest activity the kids participated in was a Mock Trial. This year's Mock Trial was about the wrongful death of Tadashi Hamada (as in Big Hero 6). Team Members played as witnesses in the Mock Trial depicting different characters from Big Hero 6. The children were then split into two teams—Plaintiff and Defendant. The children questioned the witnesses, and at the conclusion of the trial the Judge made a decision in favor of the Plaintiff.
The kids really enjoyed the day. In fact, one parent noted that the kids look forward to it every year and "when it's over they ask to stay longer."
McDivitt would like to also thank the Team Members who put the event together and congratulate them on such a successful and fun day.