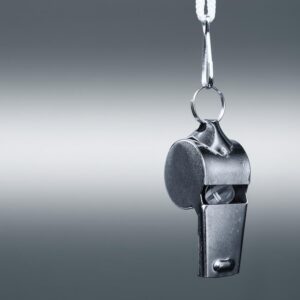 You've probably heard the term "whistleblower" before.  It's a historically misunderstood term which conjures up thoughts of snitching and tattling.
Whistleblowing has been, since passage of the False Claims Act (FCA), an invaluable tool available to protect the government as a consumer of goods and in turn the citizens and taxpayers of the U.S., against fraud, waste, and abuse at the hands of a company that knowingly profits from those actions. The FCA contains qui tam provisions, which is a fancy Latin term that provides that a private person can file a suit for violations of the FCA on behalf of the government. This act of filing an action is informally called "whistleblowing."
While whistleblowing can occur in a variety of settings, I want to focus specifically on reporting fraud, waste, and abuse at the hands of healthcare companies which are in receipt of Medicaid and Medicare payments, as well as agricultural companies, which promote and profit from the use of hazardous chemicals by the government.
Troubling business practices such as false and misleading advertising, inadequate scientific studies, misrepresentation, falsification or obstruction of adverse studies, bribing public officials or lawmakers, or conflict of interests with regulatory agencies, are but some of the situations worthy of pursuing on behalf of the government and as a taxpayer.
Billions of dollars are lost every year as a result of purchases made by the federal government from companies which do not conduct themselves properly as a business.
What is the Federal False Claims Act?
The FCA (31 U.S.C. §§ 3729- 3733) is a federal law which allows people who are not affiliated with the government, to file a lawsuit against a company which has committed fraud against the government and has resulted in the waste of taxpayer funds.
The FCA sets out the types of misconduct worthy of blowing the whistle and includes:
Presenting a claim for payment to the government for goods or services associated with fraudulent misconduct;
Making or causing to be made material misrepresentations to the government in the purchase of goods with taxpayer monies;
Mismanaging property, including funds which belong to the government;
Intending to defraud the government in making a sale of goods represented as other than what the goods are, including accompanying claims of safety;
Receiving something of value from an officer or employee of the government, including product approvals, which is unlawful and endanger the health and safety of U.S. citizens; and
Conspiring to commit any violation of the FCA.
Any citizen, including an ex-government employee, with knowledge of the fraudulent misconduct which allows any company to wrongfully benefit from federal funds can bring an action against the company. The FCA allows for substantial financial rewards for anyone who reports a company that knowingly submits an invoice for receipt of federal funds in exchange for a product it knows to be mislabeled, falsely advertised, misrepresented as safe, etc.
How We Can Help
If you are aware of fraudulent actions by those who receive funds from the federal government, it may be your time to stand up.  Contact McDivitt Law Firm for a free and confidential consultation if you have direct knowledge of a company that receives federal funds and:
receives financial incentives for endorsing only one drug or medical device manufacturer;
engages in off-label marketing of its product;
overcharges for its product;
wastes the products purchased in order to induce additional sales;
overcharges for the drugs included in the government's 340B drug discount program;
manufactures or diverts substandard or tainted drugs;
provides false data to or withholds negative data from any federal regulatory agency i.e. FDA, EPA, USDA; or
manufactures, sells, or distributes adulterated drugs.
You may be eligible to receive a portion of the damages associated with the fraudulent billing practices recovered on behalf of the Federal Government.