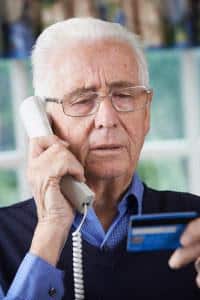 We were just provided information from the Colorado Trial Lawyers Association (CTLA) regarding a recent scam that is targeting lawyers and their clients. We wanted to warn you about what this scam entails and what to do if you think you night have been targeted.
According to the CTLA, this is how the scam works:
The client receives a phone call.
The caller ID shows the number belongs to the attorney.
The client is told that they need to pay additional money.
The client is then given a toll-free number to call.
When the client calls, they are directed as to how to pay the money.
The scam works through a process called "Caller ID Spoofing." "Spoofing" occurs when a caller is able to falsely change your caller ID screen to disguise the caller's phone number. It is often used as a way to trick people into giving away valuable personal information by using a number they know or trust. Previous "spoofing" scams, for example, have involved callers using a number that belongs to the IRS. Spoofers often choose numbers from banks, creditors, insurance companies, and the government.
U.S. law prohibits most types of spoofing. Pursuant to the Truth in Caller ID Act (TCIA), a person or entity is prohibited from transmitting misleading or inaccurate Caller ID information "with the intent to defraud, cause harm, or wrongfully obtain anything of value."
What is really troubling when I heard of this scam aimed at lawyers and clients is that the scammers have been able to link the attorney with the client. While we keep all client information confidential, in some types of legal cases, information may be publicly available through court documents. There is a known recent case involving bankruptcy court where the client was told they needed to pay more money to a creditor. Thankfully, the scam was caught in time and this client did not lose any money. At this point, no known clients of McDivitt Law Firm have ever been targeted.
We want everyone to be aware of this, including other lawyers, clients, potential clients, and consumers. If this type of scam happens to you, please file a report with the FBI's Internet Crime Complaint Center. The FBI requests that you provide the following when filing in order to best process your complaint:
Your name
Your mailing address
Your telephone number
The name, address, telephone number, and Web address, if available, of the individual or organization you believe defrauded you.
Specific details on how, why, and when you believe you were defrauded.
Any other relevant information you believe is necessary to support your complaint.
Again, we remind everyone to be safe in the digital age. It is unfortunate that there are so many scammers out there. If you are a client of McDivitt Law Firm and receive a call that you think is suspicious, do not call the number that person gives you. Instead, call our office directly at 877-846-4878 and speak with someone on your legal team to clear up any misinformation you might have been given.