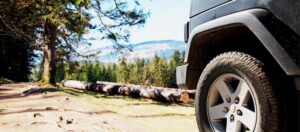 You may have heard that actor Anton Yelchin, who stars in the Star Trek remakes as Chekov, died Sunday when his Jeep Cherokee rolled down his driveway and pinned him to a wall in front of his home in Los Angeles.
According to CNN, it has now come to light that Fiat Chrysler filed a recall notice in April with federal safety regulators for the 2015 Grand Cherokee, the make of Yelchin's car, along with 1.1 million other cars and SUVS. The recall involves a gear selector problem where it appears as though the car is in park but is actually in neutral. Specifically, most gear selectors are in forward or back positions depending on whether the car is in park, reverse, neutral or drive, but with these vehicles' gear selectors they always return to the upright position after a driver changes gear. Therefore, if a driver gets out of a car when it's in neutral, but unknown to the driver, the vehicle could roll away.
More than 100 crashes have been reported due to this problem. Car owners have not actually gotten an official notice of this recall yet, but notices about the safety warning (not a recall notice) were sent out in May.
An investigation is still underway by Los Angeles law enforcement as they work to make a final determination of what caused the accident. Fiat Chrysler has said it will conduct an investigation on this incident as well.
The National Highway Traffic Safety Administration (NHTSA) reports that there have been 117 crashes allegedly involving the gear problem. Twenty-eight of those crashes involved serious injuries but no fatalities.
The vehicles involved in the recall are model-year 2012-2014 Dodge Charger and Chrysler 300 sedans along with model year 2014-2015 Jeep Grand Cherokees. To see if your car has a recall on it, you can visit the NHSTA website. All you need is model year and make, model is optional, or you can search by your car's VIN. Please remember to keep up to date on any recalls that may affect your vehicle, and ensure that your vehicle's manufacturer has your current contact information so that you may be alerted to any pending recalls.