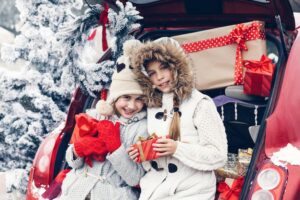 Many of you will travel during the holiday season to see family and friends. Some of these distances may be very long road trip. So, here are some helpful tips to make your drive this season a good one. No one wants to get stuck somewhere and miss out on seeing family and opening gifts!
Make sure that your car is properly maintained. If your oil needs to be changed, change before you leave and make sure that your tires are inspected before then too.
Plan your route in advance. Check the weather and road conditions prior to leaving. Traveling from a state like Colorado may require you to change routes if adverse weather conditions exist.
Plan for the unexpected, such as weather. Leave early with plenty of time to change routes if needed and get to your destination on time. Also, leaving plenty of time means you won't be rushed while driving, making the roads safer for everyone.
Keep your valuables in the trunk or covered. You don't want to be the victim of the Christmas Caper.
In case of emergencies, make sure your cell phone is charged and that you have your charger with you. Also, make sure you have an emergency kit in your car with such items as a first aid kit, tire gauge, jumper cables, flashlight, and warm blanket.
Bring snacks. Though if you are the driver, you shouldn't be eating those snacks while behind the wheel—that would be distracted driving.
Don't stress. The unexpected can always happen. You may hit traffic or construction that will slow you down. But just remember, it's a time to be appreciative of what you have. Arriving at your destination safely is the best gift you can give your family this season.
The Team at McDivitt Law Firm hopes that you have a wonderful and happy holiday season. Please remember to be safe while out on the road while making your way to see family and friends.
If you enjoyed this blog check out the following: