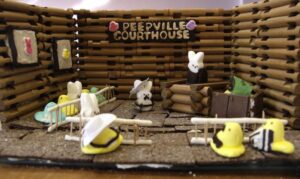 The ABA Journal is hosting for the seventh year its annual Peeps in Law diorama contest. Yes, that's right those colored marshmallow Peeps that you can go out and buy right now. This year the Team at McDivitt Law Firm has decided to submit a Peeps diorama. Team members got together and designed "Kid Peep on Trial." Thank you to those Team members who participated. McDivitt Law Firm is very excited about its submission.
The Story
"Kid Peep," a notorious member of Peepville's Rotten Bunny-Chick Gang, is on trial for "bunco" charges. The Honorable C.R. Peeping is not taking the shenanigans of the gambling conman. After the testimony of Old Mrs. Henny who witnessed the bunco game, Judge Peeping is ordering the criminal to leave town. Peepville will once again be free of the vice and evils brought to the booming Wild West town by the gang; that is until Kid Peep returns . . . *(Loosely based on the story of "Kid Duffy," a Colorado Springs conman in the early 1900s.)
The Competition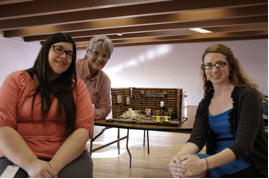 The ABA Journal will be posting entries to a photo gallery as they are submitted. Voting on the entries will occur from March 25 to April 5. The winners will be announced April 7th.  You can vote now in the poll on the ABA Journal's homepage by clicking on "Kid Peep on Trial" and help McDivitt claim the glory of this challenge.
Again, thank you to those Team members who helped build the diorama and to all who vote!